The Story
Dear fellow Kickstarter Patrons, at various points in my life, I've built RC cars, messed with Arduino projects, built custom computers, assembled models, added LEDs to my snowboard and so on. A common thread in these projects was the need to hold pieces in place while I soldered, glued or painted my parts.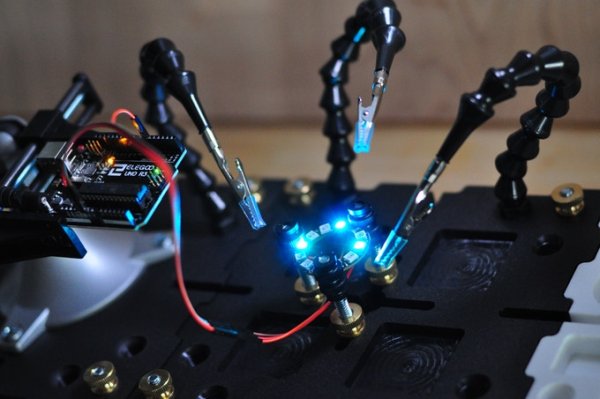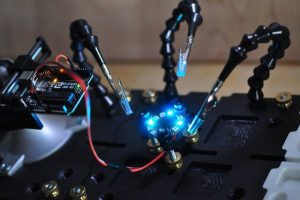 The usual solution is some type of third hand tool…and there are some good ones out there but none of them have the functionality that I was looking for and they often had compromises with the parts they use. My wife can tell you that I don't like to compromise thus…
RaptorLoc Pro is my best-of-breed tool that has all of the functionality of any third hand tool and adds so much more.
RaptorLoc Pro is a platform that you can change and whose use is only limited by your imagination.
RaptorLoc Pro is machined in the US which means I can directly incorporate feedback from my customers into new offerings with a short lead time. Got a custom need, we'll talk…
Enough exposition already, let's get down to the features…
The Features
Workholding
Flexible alligator arms using premium Loc-Line hose hold small pieces/wires securely between silicon-booted jaws. The arms have 8 different possible locations for installation.
Rigid zip-tie mounts based on standard hardware are used in conjunction with t-slots to lift your large pieces off the surface for detail work
T-Slots
Built-in t-slots allow the use of 1/4-20 bolts enabling owner-created jigs and lots of available accessories
Modular
Each base is a stand-alone module that can also interlock with other bases.
Quick connect tabs can be used or external t-tracks for extreme flexibility. Five connected bases will form a giant robot *
Read more: RaptorLoc Pro – A versatile modular third hand system