About this project
The Qduino Mini is perfect to embed in your electronics projects, it's super small, inexpensive, has a battery connector & charger built-in, & a fuel gauge that can tell you when to charge the battery!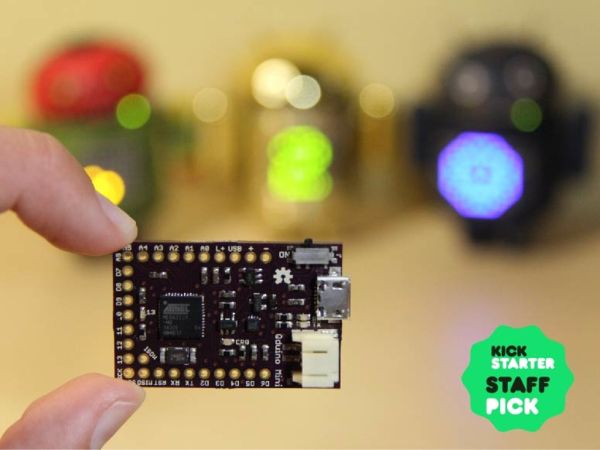 The Qduino Mini is Arduino-compatible & 100% open source, hardware and software meaning that making and programming your first circuit is a breeze.  Hardware is hard, so we decided to make it a little bit easier.  The day that the first Qduino Mini ships, all of the design files, including EAGLE board files, schematic, and code will be released under an open source license.  Here's what it includes:
Battery Charger Circuit – just plug in USB and it charges the battery with the auto switching circuit – there's no extra charger needed & no digging the battery out of your project so you can charge & program at the same time over USB!
Battery Fuel Gauge – guessing on when your project runs out of juice?  We've got you covered – we have a simple monitor library for your battery so you can remind yourself when it needs a little extra juice.
Ultra small, Ultra thin, Ultra light – The Qduino Mini itself is 1in x 1.5in (2.6cm x 3.9cm) & 0.18oz (5 grams), perfect for quadcopters, drones or high altitude balloon projects.  Both the Qduino Mini and the batteries (LiPos) used to power the board fit are super compact & thin, just right for embedding in your projects.
ATmega32U4 Processor – Arduino Leonardo Compatible
32KB Flash Storage
2.5KB SRAM
1KB EEPROM
3.3V @ 8MHz
For more detail: Qduino Mini: Arduino Compatible + Battery Charger & Monitor