Typically when electrical engineers wants to make a new circuit board, they need to send their design files to a manufacturer and wait for it to be produced and mailed back. Hardware startup Voltera aims to expedite this process by putting it in on your desk with its V-One consumer circuit board printer.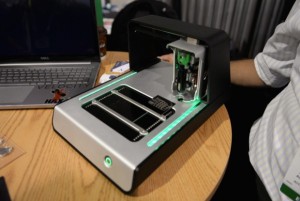 Winners of the $50,000 TechCrunch "Hardware Battlefield" at CES 2015, the Haxlr8r alumnus Canadian team has created a stylish printer that uses a silver nanoparticle conductive ink to lay traces on a standard FR-4 board. The printer can also place an insulating layer over the traces to allow for two-layer circuits, and also offers a solder paste option to allow makers to reflow surface-mount components onto existing boards.
The unit contains a heating element to allow the conductive ink to cure, or to function as a reflow heater for surface-mount projects. Internal LEDs that indicate what part of the process the device is currently at.
The print heads are modular, popping into the machine with magnetic clasps to allow for quick changes between printing types.
According to Voltera cofounder Alroy Almeida, the V-One prints at 8mil space and trace, passives down to 0603, and pin-to-pin pitch is 0.8mm. Resistance is comparable to copper, "about an order of magnitude not as conductive" but says that in their tests, everything has been fine so far.
For More Details: Print Your Own Circuit Boards and Reflow SMD Components with the Voltera V-One