Fifteen types, three sizes and three strong features – these are the new DIN-rail power supplies Uno Power from company Phoenix Contact.
To be on the top in a segment of power supplies nowadays means above all high efficiency, low power consumption without a load (Standby) and compact dimensions. New series Uno Power from company Phoenix Contact meets all the most important requirements expected from a good power supply and gives a guarantee of a precise construction known from components from Phoenix Contact at the same time. Main benefits: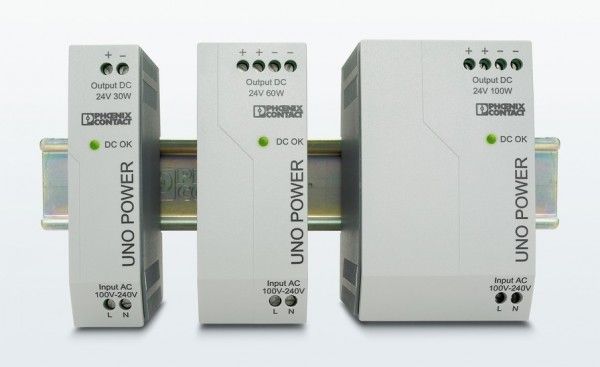 ● high efficiency over 90% at full load
● very low standby losses below 0.3W
● compact dimensions and low construction height only 84 mm enables easy assembly into favorite 120mm installation boxes.
● 15 types with output power of 25-100W, single output (5, 12, 15, 24 a 48VDC)
● MTBF > 500 000 hrs Uno Power are available in three sizes – in a width of 22.5/ 35/ 55mm x 90 x 84mm (wxhxd). High efficiency at maintaining compact dimensions results into a high energy density. In praxis it means that for example the 60W type is only 35mm wide.
For more detail: Power supplies Phoenix Uno Power – yes for three times