After I built the tiny balancing robot using an IR sensor for stabilization, there was a comment on the youtube video about how it would be a good thing for kids to build and learn about PID controls. I thought that was a great idea, the only problem was that that tiny robot was the simplest of balancing robots. It was just an on off switch for telling the motor which way to move. There was no actual PID im ...
Read more

›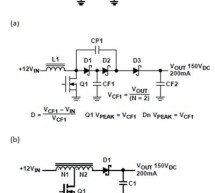 Whether it is used for biasing avalanche photodiodes (APDs) found in optical receivers, driving photoflash tubes in flash cameras, or charging high-voltage capacitors, the need for high-voltage sources continues to grow. Consequently, in battery-powered units where the input supply voltage is low, step-up or boost DC/DC converters are required to generate voltages that can be several times the input. To add ...
Read more

›
We took a look at Punch Through Design's Light Blue Bean back when the board was called the "Cortado" and Punch Through had just opened its doors for pre-orders. However with the board now shipping to pre-order customers, and going on general sale at the end of the month, it's time to take proper look at the final production hardware. Punch Through was kind enough to send me four Beans for evaluation. The b ...
Read more

›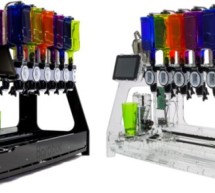 A beautifully designed robotic bartender capable of producing perfect drinks every time, with technology that brings people together. Introducing Barobot Barobot is an open source device that pours cocktails by mixing alcohol, soft drinks and sodas. It holds up to 12 bottles and can pour a drink with millitary accuracy! Barobot features over 1000 cocktail recipes or gives you the option to create your own o ...
Read more

›
I bought this tiny display from Adafruit: http://www.adafruit.com/products/1393 First thing I did was breadboard a circuit to make sure it worked and I could use it. Board design I was thinking along the lines of "Game Boy Micro:" http://i.imgur.com/1s5qvFH.jpg . I spent an evening coming up with this design in Eagle. In order for me to make it here, it needs to be single-layer, with nice fat traces and lar ...
Read more

›
If you're like me, after I got my Arduino and performed a final programming on my first chip, I wanted to pull it off my Arduino Duemilanove and put it on my own circuit. This would also free up my Arduino for future projects. The problem was that I'm such an electronics newbie that I didn't know where to start. After reading through many web pages and forums, I was able to put together this Instructable. I ...
Read more

›
Multiple synthesizer projects have been done for the Arduino, but few have been able to utilize the full power of the Arduino processor. DZL from GeekPhysical wrote a 4 voice wavetable synthesizer that is one of the more advanced software based synths for the Arduino.  It has wavetables included (sine, saw, square and triangle) and envelopes to create beats.This instructable will show you how to make a simp ...
Read more

›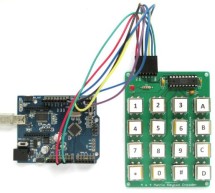 Matrix keypads are an excellent way of providing user input data into microcontroller-based systems. Keypads find applications in remote controls, standalone data-loggers, security systems, door entry systems, calculators, microwave ovens, etc. They are usually implemented as pushbutton switches arranged in a row and column matrix format to reduce the number of I/O connections. For example, a 16-switch keyp ...
Read more

›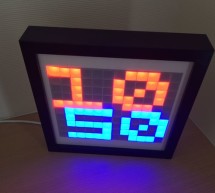 Here is a small personal project to brighten my home made from a cheap IKEA photo frame, and Arduino and a multicolor "NeoPixel" LEDs strip. The goal is simple: to realize a matrix of 12×10 big square pixels able to emit light in any color, and controllable from a smartphone. A simple demo video will explain the principle better (the LED flicker is due to the video and not normally visible): The video shows ...
Read more

›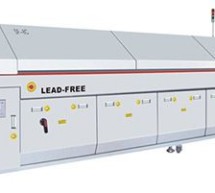 Introduction It's been so long since I had the idea for this project that I can't remember why I had the idea in the first place. At least I blame it on the passage of time although this engineer is getting on a bit now so it could easily be memory rot on my part. So here we are then, a reflow oven controller. Let's quickly recap what a reflow oven is for those that are new around here. The two main process ...
Read more

›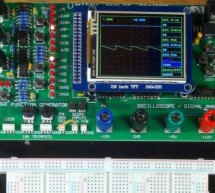 An all-in-one breadboard with Oscilloscope, Spectral Display, Function Generator, and Power Supply. We are excited to bring a low-cost audio range electronics development board to classrooms, labs, small businesses, and techno-geeks everywhere.  This idea has been bouncing around in our family for many years and now the technology has caught up to make it a reality at a price that schools and individuals ca ...
Read more

›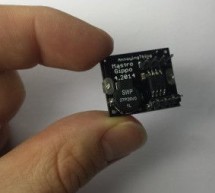 A few weeks ago I've had the great opportunity to attend the awesome Hacker Camp in Shenzhen, hosted by Ian Lesnet from DangerousPrototypes. I could say a lot about that incredible experience, so I'll start by sharing an experiment I did to explore Shenzhen's manufacturing ecosystem. The idea Shenzhen is a big city where you can find entire buildings packed with people selling and buying all kind of electro ...
Read more

›