MYIR has launched its first board based on one of NXP's high performance i.MX8 processors. The 30 to 80°C tolerant "MYC-JX8MX CPU Module" runs Linux on a quad -A53 i.MX8M with 1GB or 2GB LPDDR4 and 8GB eMMC, with a "MYD-JX8MX" dev board adding 5x USB 3.0 plus mini-PCIe and PCIe x4 for NVMe. The $99 upward 82 x 52mm MYC-JX8MX CPU Module features i.MX8M COM, and connects via a 314-pin MXM 3.0 edge finger to the $279 MYD-JX8MX dev board. The module is designed for applications like scanning/imaging, building automation, and smart home, HMI, and machine vision.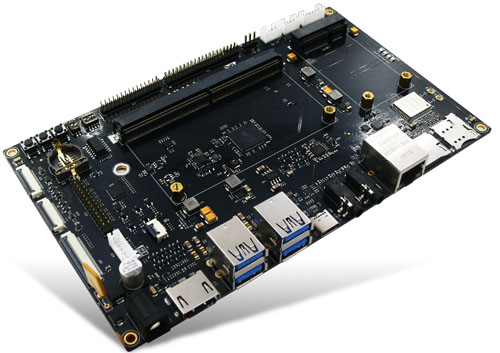 MYIR has released several embedded modules and SBCs that features NXP's low-power, Cortex-A7 based i.MX6 UL and i.MX6 ULL, like the MYC-Y6ULX module and MYD-Y6ULX-HMI dev board. The MYC-JX8MX CPU Module accompanies several sandwich-style i.MX8M offerings like Phytec's phyCORE-i.MX 8M, phyBoard-Polaris SBC and Google's AI-enabled Coral SOM and Coral Dev Board. The module features a Yocto Project-based stack with Linux 4.9.88 on the quad-core version of the Cortex-A53 based i.MX8M, which is clocked to 1.3GHz. The i.MX8M also includes a Vivante GC7000Lite GPU and VPU and a 266MHz Cortex-M4 MCU. Powering at 5V/0.5A, the MYC-JX8MX CPU Module enables 1GB or 2GB LPDDR4, 8GB eMMC, and 256Mb QSPI flash. Available also is a Gigabit Ethernet PHY and a PMIC on board.
The MXM 3.0 connector manifests the wide array of industrial and media interfaces obtainable on the general-purpose i.MX8M, of which many are available on the optional MYD-JX8MX development board. The MYD-JX8MX dev board is equipped with a microSD slot, GbE port, 4x USB 3.0 host ports, and a USB 3.0 Type-C host/device port. The dev board offers a wireless module with 802.11 a/b/g/n/ac 2×2 MIMO and Bluetooth 4.2 support,  with dual antenna mounts. A 4G LTE module can be incorporated using the single USB-based mini-PCIe interface and SIM slot, with also a PCIe 3.0 x4 interface that supports NVMe SSDs. Display feature includes an HDMI 2.0a port with 4096 x 2160 @ 60Hz video,  plus an HD ready MIPI-DSI interface and dual LVDS connectors. Available also is a capacitive touchscreen interface with backlight support.
Read more: MYIR MYC-JX8MX MODULE SUPPORTS LINUX ON I.MX8M COM