Plessey Semiconductors today announced the release of the PS2292X family of low dropout linear regulators for point of load applications. The devices are part of a high current, single supply LDO family that operates from an input voltage as low as 1.7V. Targeted for industrial, medical, communication, computing and consumer markets, the regulators are an ideal choice for low voltage post regulation applications. The new line of regulators offers fast transient response while maintaining high Power Supply Rejection Ratio (PSRR).
"Many new point-of-load applications are beginning to use 1.8V as a main input power distribution rail while providing output voltages from 0.5 to 1.25V to power low voltage processor and micro-controller cores," said Dr. Keith Strickland, Technology Director. "Designed on Plessey's proprietary state of the art bipolar process, this line of Linear Regulators offers superior power density and industry leading low-noise performance."
The PS2292X family is comprised of the PS22921, PS22922, PS22923, PS22924 and PS22925 detailed in the following matrix:
Part number     Output Current        Package
PS22921                         0.5A            SOT23-5 and SOIC-8
PS22922                         1.0A            SOIC-8
PS22923                         1.5A            SOIC-8
PS22924                         2.0A            SOIC-8
PS22925                         3.0A            D2PAK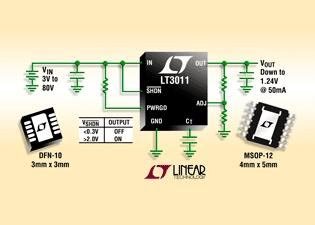 Other key features include ON/OFF control, output voltage accuracy of ±1%, power good with 500µs delay, by-pass pin for ultra-low noise, over temperature and over current protection. With a unique circuit trimming approach, the regulators offer custom delivery of voltages in 100mV increments in the range of 0.5V to 5V within four weeks of receipt of order.
For product brochures or further information please see http://www.plesseysemi.com or contact directly at sales(at)plesseysemi(dot)com
About Plessey Semiconductors Limited
Plessey Semiconductors are the leading experts in the development and manufacture of semiconductor products used in sensing, measurement and controls applications. Plessey's products are found in a wide range of markets including communications, manufacturing, medical, defence, aerospace and automotive. Plessey designs their products specifically for high performance applications and include image sensors, RF components, and power management devices. The suite of state-of-the-art high precision, high voltage products are available in high temperature and radiation tolerant options.
All trademarks are recognised and are the property of their respective companies.
Plymouth chip fab Plessey has introduced a family of linear regulators with inputs from 1.7 to 12V.
Called PS22921 (0.5A, SOT23-5), PS22922 (1.0A, SOT223) and PS22924, (2.0A, SOIC-8), they are made on the firm's bipolar process.
"Many applications are demanding wider input voltages ranges for their power management to reduce the step-down regulation requirements whilst maintaining stable voltage rails down to 0.5V to power low-voltage processors and microcontroller cores," said company sales director David Owen.
There are adjustable and fixed voltage output options, and on/off control, power good with 500µs delay, a by-pass pin for lower noise, over-temperature protection and over-current protection.
Operating range is -40 to 125°C junction.
See also: Plessey to sample LEDs by Christmas
For more read: Linear regulators for wide inputs