As electronic products get smaller and better, so must the converters powering them. Besides delivering higher efficiency from a smaller footprint, these DC/DC converters must also respond rapidly to varying loads while making the system designers' jobs simpler. Consequently, power supply makers continue to tap the benefits of advances in packaging, architecture, and semiconductor processes to further push the performance of integrated DC/DC modules in ever-shrinking packages.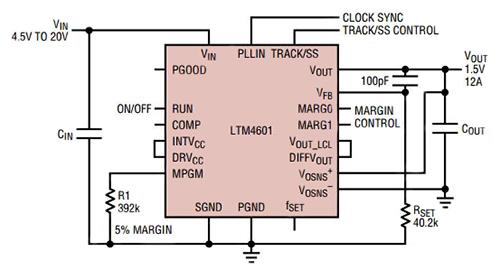 Although, manufacturers like Enpirion (now Altera), Intersil, Linear Technology, and Texas Instruments have significantly advanced integrated DC/DC converter modules, others like Micrel Inc. are further pushing the performance envelope from a smaller footprint.
Linear Technology, for instance, has created a portfolio of integrated micropower modules, designated µModule, that integrate all the required active and passive components, including inductor, together with controller, power MOSFETs and compensation circuitry in a single surface-mount BGA or LGA package. It is a complete step-down DC/DC converter that requires only a handful of external components to complete the solution (Figure 1). A good example is LTM4601, which is a complete 12 A step-down DC/DC module housed in a compact 15 x 15 x 2.82 mm LGA package capable of delivering precisely regulated output voltage that is programmable from 0.6 V to 5.0 V using just one external resistor. The wide DC-input-voltage range for the unit is 4.5 V to 20 V. The LTM4601 also comes in 15 x 15 x 3.42 mm BGA package.
Linear continues to expand the family with higher- and lower-output current capabilities while improving the input-voltage range. Nevertheless, the input range is limited. Typically, the inputs go up to 24 VDC or 36 VDC, which is adequate for applications that offer well-regulated power buses. However, in industrial and automotive applications, the input power to the micropower regulator can vary a great deal. For example, in an industrial environment where noisy electric motors are constantly running, a nominal 24 VDC or 36 VDC bus can be subject to power spikes producing transient voltages as high as 70 V. Likewise, loads in these environments are also said to peak higher than those in telecom or computing systems.
Besides limited input-voltage range, the output-power handling capability of these modules has also been curtailed due to heat generated by dissipated power. Using big heatsinks to remove heat from the package adds to the cost and space of the design.
For more detail: Improved Packaging and Control Generates Ultra-Fast DC/DC Converter