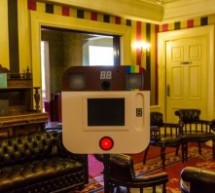 I decided to build a simple photo-booth as a fun addition for events, this goes through the basic steps of how i went from a few pieces of wood to a fully functional booth. I have also included a photo of what the images look like! Step 1: Cutting Wood Square sheet of MDF, 600mm x 600mm with a Red Dome Push Button recessed at the bottom. Step 2: Access Holes Holes were then cut out for camera lens and tv mo ...
Read more

›
On this instructable I will try to show how to interface a RFID sensor with the Arduino. I am using the RFID sensor from seeedstudio the serial version of it. There are a few parts you will gonna need. I also bought some RFID keys. UPDATE: Now it works with IDE 021 Step 2: Plugging all together Connect the antenna on the appropriate pins like the first photo. Plug the RFID sensor to the protoboard like the ...
Read more

›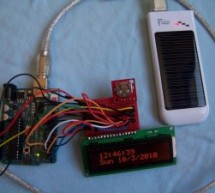 I've always been interested in monitoring my local weather, and noticed the difference between what weather.com and accuweather.com think my local weather is, and what I see out the window. I also wanted better control over my heating and A/C system. As a computer and electronics nut, I've been playing with the Arduino Microcontroller, and decided to to meld my interests. So here goes the documentation on m ...
Read more

›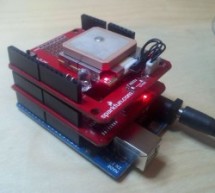 Do you want to log some GPS data onto an SD card using your Arduino? Do you already own a Sparkfun microSD shield and GPS module? Did you try the Adafruit Sheild (although it is awesome and cheap) but it stole all of your pins? Want it to output into a nice, Google Earth friendly format? Well read on... Step 2: Hook It All Up It's a simple as, stacking the sheilds. I put the GPS Shield on top to maximize re ...
Read more

›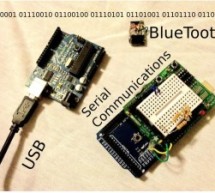 At this point you should have a robot that can think on its own, we need to be able to tap into its thought process. See what he sees. Make some of his decisions for him. in essence, we need to be able to guage his intelligence to make him more intelligent and increase his efficiency. With serial communications we can do two things: We can either send commands or receive data. Here are some examples to use ...
Read more

›
**** ENTERED IN THE HURRICANE LASERS CONTEST**** What would I do with a Laser Cutter? Build Simple Robotic Kits to teach people a Hobby that I Love.Ever wanted to make some money from your projects? This Instrutable will show you how to Simply interface a coin selector with your Adruino. And also how to then connect that to your Visual C# Project. Then it's all up to you and that great idea you have, if it' ...
Read more

›
This page is describes the construction of an RFID reader using only an Arduino (Nano 3.0 was tested, but others may work), a hand-wound wire coil, and some assorted low cost common components. Credits The hardware and software designs for this project are based in part on the ideas, code and schematics posted by Micah Dowty here and Asher Glick here. Background RFID readers are devices sold by companies su ...
Read more

›