HOPERF – universal RF modules for surprising prices
HOPERF modules enable to gain a wireless data transfer or remote control of devices simply and without excessive costs.
A company, which specializes over a quarter of century on a given segment usually has experience and production capacities to develop and produce quality components. This is also a case of company HOPERF Micro-electronics and moreover – thanks to high production capacities the prices of their products are very attractive. HOPERF produces RF chips themselves, as well as read-made RF modules usable for virtually any application requiring a wireless control or data transfer, for example: remote keyless entry (RKE), control, security systems, telemetry, voice and data communication, control of processes and many others.
HOPERF modules offer besides a great price also a very high flexibility of usage. In contrast to many "fix-set" modules, RF modules HOPERF usually offer very wide possibilities to dynamically adjust many parameters, like for example: FSK/ OOK/ ASK modulation, possibility to work in a wide frequency range including free ISM bands 315, 433, 868 and 915MHz, while all main RF communication parameters are programmable.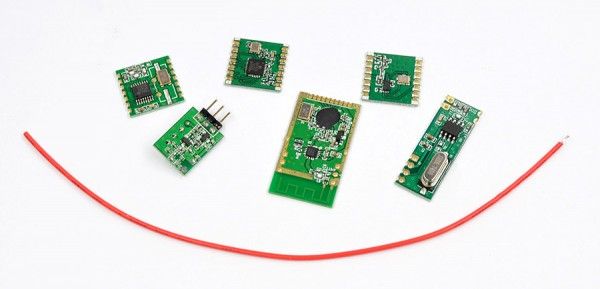 In our stock can be found for example:
● RFM65CW-433S2 and RFM65CW-868S2 – 433/868 MHz FSK receivers. RFM65CW offers a unique possibility to use narrow-band and also wide-band communication modes. RFM65CW is optimized for a low power consumption while maintaining high sensitivity.
● RFM68CW-433S2 and RFM68CW-868S2 – 433/868 MHz FSK transmitters. It can be used without configuration from an MCU. However, in connection with MCU, it´s possible to change many parameters including output power, modulation format and a working channel.
● RFM73-S – 2,4 GHz transceiver, including a high power +20dBm version RFM73P-S2.
● RFM83C-433S1 – sophisticated 433 MHz ASK/OOK receiver including a version for low voltages RFM83CL-433S operating already from 2.1V
● RFM85W-433D – 433 MHz ASK transmitter. Excellent features and simple usage. Specially designed for remote control, car-alarms etc. working on 433.92 MHz.
● RFM12B-868S2P – multichannel 868 MHz FSK transceiver. RFM12B contains integrated functions of a digital data processing like: data filtering, clock recovery, data pattern recognition, integrated FIFO and TX data register. RFM12B enables to provide a clock for microcontroller.
for more detail: HOPERF – universal RF modules for surprising prices