Automate your holiday wreath using an Arduino MKR1000, NeoPixels, and a buzzer. Get notified via SMS/email when someone is at the door.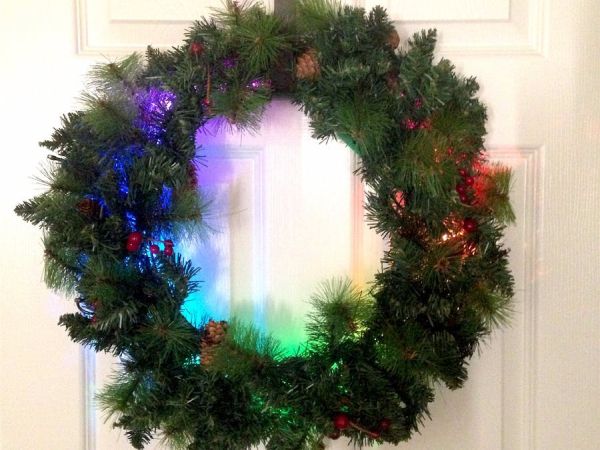 Things used in this project
Hardware components

×
1
×
1
×
1
×
1
×
1

Li-Ion Battery 1000mAh
Lithium Ion Polymer Battery – 3.7v 1200mAh

×
1

PIR Motion Sensor (generic)

×
1

Software apps and online services

Hand tools and fabrication machines
Story
Here is a great way to modify and add that extra wow factor to your holiday wreath that hangs outside your front door! This your cousins and neighbors will appreciate and admire when they visit you for the holidays.
For this project, you can keep it simple or go all in implementing all the features:
Add Neopixels to the wreath, which are going to be controlled by a web app hosted on the Arduino MKR1000.
Then add a Piezo buzzer to play your favorite holiday tune.
Add a PIR sensor to detect motion in front of the door; this will trigger the NeoPixels on the wreath and play a tune.
Send yourself an email/SMS, so that you can get to the door as soon as possible and not miss out on a group of carol singers.