HiSilicon and Nowi's continued collaboration has led to a 2nd generation Energy Autonomous NB-IoT platform optimised for ease-of-use and form factor. New Internet of Things applications are now possible, where physical size is limited and 'Plug & Forget' indefinite operation is required.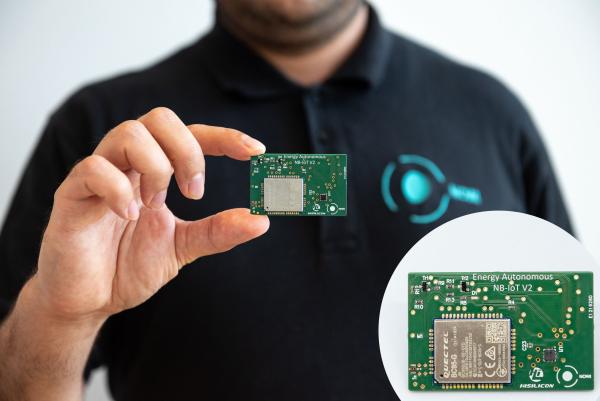 HiSilicon (Shanghai) Ltd and Nowi Energy B.V. today showcased the 2nd generation of their Energy Autonomous NB-IoT platform. The device acts as a sensor hub that can transmit via NB-IoT while operating indefinitely through its energy harvesting capabilities. It is based on HiSilicon's Hi2115 NB-IoT solution and Nowi's leading NH2 energy harvesting power management IC. The solution removes the need for manual intervention (changing batteries) or cabling to supply power in applications that become zero maintenance.
Building upon the success of the 2019 collaboration , HiSilicon and Nowi have optimized the design to resolve customers' challenges and satisfy new, stricter market requirements to broaden the variety of applications addressed. The platform combines connectivity and energy harvesting in the smallest size possible and offers an open slot on which various sensors can be placed depending on the application need. As such the platform can act as the backbone of countless connected sensor solutions.
Read more: HISILICON & NOWI INTRODUCE ENERGY AUTONOMOUS NB-IOT PLATFORM: A POWER-FREE SOLUTION IN THE SMALLEST SIZE POSSIBLE