The STEVAL-VP22201B evaluation board implements a 5 V – 1.8 W isolated flyback converter developed for general purpose applications operating from 85 to 265 VAC.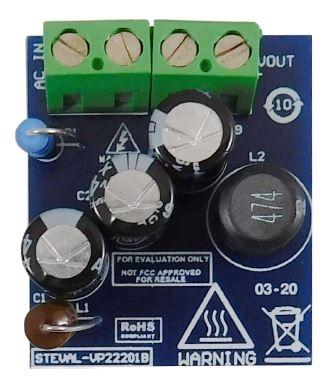 The reference design is built around the VIPer222XSTR offline high-voltage converter from the VIPerPlus family, with 730 V Power MOSFET and PWM current-mode control.
The main characteristics of the evaluation board are its small size and minimal BOM, low stand-by consumption and tight line and load regulation over the entire input and output range. Extremely low consumption under no-load condition is ensured thanks to burst mode operation that reduces the average switching frequency and minimizes all frequency related losses.
ey Features
Universal input mains range: 85–265 VAC
Frequency: 50-60Hz
Output voltage: 5 V
Output current: 360 mA
Very compact size
Stand-by mains consumption: < 18mW at 230 VAC
Tight line and load regulation over the entire input and output range
Read more: EVALUATION BOARD IMPLEMENTS A 5 V – 1.8 W ISOLATED FLYBACK CONVERTER