GPIO pins of ESP32 DEVKIT
As mentioned earlier, the chip used with this board has 48 GPIO pins, but all pins are not accessible through development boards. ESP32 devkit has 36 pins and 18 on each side of the board as shown in the picture above. It has 34 GPIO pins and each pin has multiple functionalities which can be configured using specific registers. There are many types of GPIOs available like digital input, digital output, analog input, and analog output, capacitive touch, UART communication and many other features mentioned above.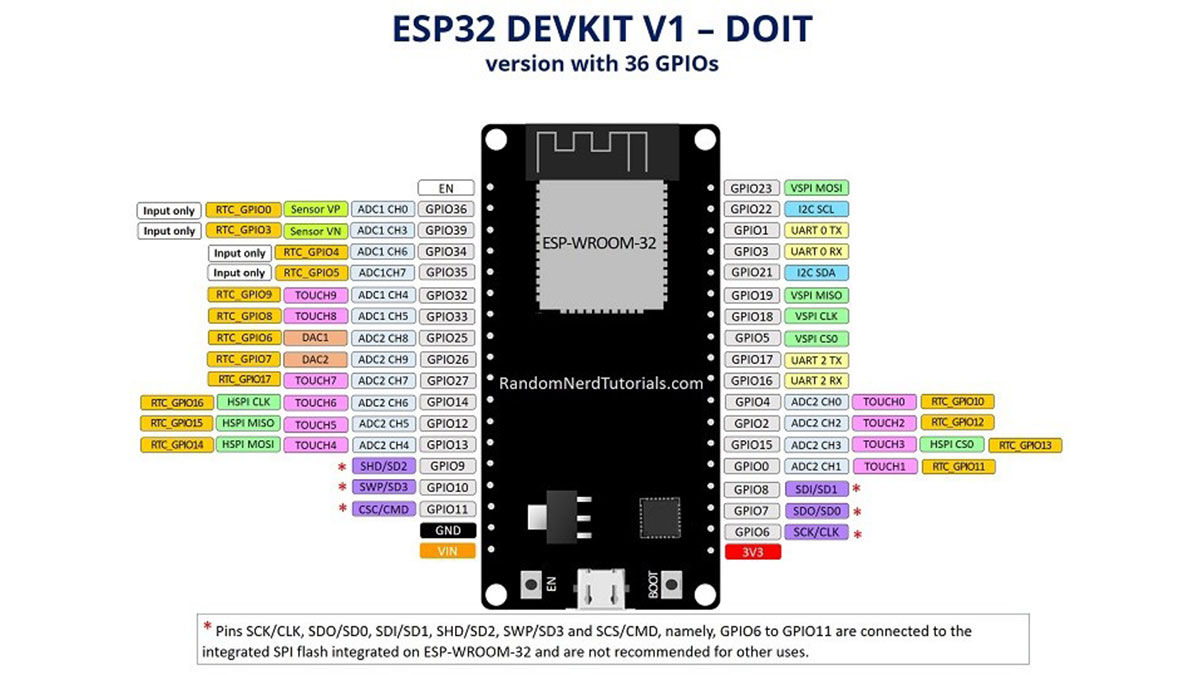 digital input GPIO pins
It has six GPIO pins which can be used as digital input pins only. They cannot be configured as digital output pins. They do not have internally connected push pull resistors. They can only be used as digital input pins.
GPIO34
GPIO35
GPIO36
GPIO37
GPIO38
GPIO39
Check this tutorial: How to use push button with ESP32
Analog to digital converter or Analog GPIO pins
This development board supports 18 ADC channels. And each channel is of 12 bits. So it has a good resolution. It can be used to measure analog voltage, current and any analog sensor which provides output in the form of analog voltage. These ADCs can also be used in sleep mode for lower power consumption. Each ADC channel has a resolution of 12 bits which is equal to
3.3 / 4095 where 3.3 volt is a reference voltage and 4095 is minimum step by ADC
So the minimum voltage, we can measure with these ADC channels is about 80 microvolt. Anything less than this will be an error. I will talk more about it in coming tutorials. The major drawback of ESP32 ADC is that it has a nonlinear behavior. you can check the diagram below:
Mapping of Analog pins with GPIO pins is shown below:
ADC1_CH0 – GPIO36
ADC1_CH1 – GPIO37
ADC1_CH2 – GPIO38
ADC1_CH3 – GPIO39
ADC1_CH4 – GPIO32
ADC1_CH5- GPIO33
ADC1_CH6 – GPIO34
ADC1_CH7 – GPIO35
ADC2_CH0 – GPIO4
ADC2_CH1 – GPIO0
ADC2_CH2 – GPIO2
ADC2_CH3 – GPIO15
ADC2_CH4 – GPIO13
ADC2_CH5 – GPIO12
ADC2_CH6 – GPIO14
ADC2_CH7 – GPIO27
ADC2_CH8 – GPIO25
ADC2_CH9 – GPIO26
Check this tutorial : How to use ADC of ESP32
Digital to analog converter pins
This development board has two onboard integrated 8-bit DAC. DACs are used to convert digital signals into analog signals. DACs has many applications like voltage control and PWM control.
DAC_1 – GPIO25
DAC_2 – GPIO26
Touch sensor pins of Devkit
ESP-WROOM-32 provide on board 10 capacitive touch sensors. So you don't need to use separate touch sensors in your project when you are using this development board. These capacitive touch sensors can be used to detect any electrical and magnetic waves around like magnetic field detection. You can use a small array of pads instead of push buttons with these touch sensors.
TOUCH0 – GPIO4
TOUCH1 – GPIO0
TOUCH2 – GPIO2
TOUCH3 – GPIO15
TOUCH4 – GPIO13
TOUCH5 – GPIO12
TOUCH6 – GPIO14
TOUCH7 – GPIO27
TOUCH8 – GPIO33
TOUCH9 – GPIO32
How to use touch pins and how to use touch pins as a digital button?
Memory card interfacing pins
It also supports memory card interfacing through these pins.
HS2_CLK – MTMS
HS2_CMD – MTDO
HS2_DATA0 – GPIO2
HS2_DATA1 – GPIO4
HS2_DATA2 – MTDI
HS2_DATA3 – MTCK
External interrupt pins
All general purpose input output pins can be used as external interrupt. External interrupts are very useful. When you want to monitor change across any pin, you can use this pin as an interrupt instead of repeatedly monitoring the state of this pin.
PWM GPIO pins
All general purpose input output pins can be used to generate PWM except digital input pins from GPIO pins 34-39. Because these pins cannot be used as digital output pins. PWM signals are digital output signals. The maximum frequency of these PWM pins is 80 MHz. you can configure any other pin as a PWM pin by following these steps:
Select a frequency for pulse width modulation.
Select the duty cycle or pulse width.
Select the PWM channel. ESP32 provides 16 PWM channels.
Assign a digital pin to select the PWM channel.
PWM motor control feature
It also supports motor control feature through internal registers of ESP32 chip. you just need to configure these registers with any GPIO pins. you can find more information about these registers in the datasheet. Registers names are given below:
PWM1_OUT_IN0~2
PWM0_FLT_IN0~2
PWM1_FLT_IN0~2
PWM0_CAP_IN0~2
PWM1_CAP_IN0~2
PWM0_SYNC_IN0~2
PWM1_SYNC_IN0~2
I2C communication pins
It has dedicated pins available for two-wire I2C communication. One pin is used for data transfer and another pin is used for clock synchronization.
GPIO21 is SDA pin.
GPIO22 is SCL pin.
We have posted an article on I2C LCD interfacing with ESP32. This post explains how to I2C pins. you can read complete article:
RTC pins of ESP32 devKit
This board also provide RTC pins which can be used to trigger ESP32 from sleep mode.
RTC_GPIO0 – GPIO36
RTC_GPIO3 -GPIO39
RTC_GPIO4 – GPIO34
RTC_GPIO5 – GPIO35
RTC_GPIO6 – GPIO25
RTC_GPIO7 -GPIO26
RTC_GPIO8 – GPIO33
RTC_GPIO9 – GPIO32
RTC_GPIO10 -GPIO4
RTC_GPIO11 – GPIO0
RTC_GPIO12 – GPIO2
RTC_GPIO13 – GPIO15
RTC_GPIO14 – GPIO13
RTC_GPIO15 – GPIO12
RTC_GPIO16 – GPIO14
RTC_GPIO17 – GPIO27
Hall sensor pin
It also has one hall sensor which is used to detect the magnetic field. Whenever you please this development board in the magnetic field, ESP32 generates a small voltage which can be measured with any pin. I will post a tutorial on in coming articles. Other features of ESP32 development board and pins are shown in the above picture.