What is DSLogic?
Most of electronic instruments are designed in professional fashion. They are dedicated, traditional, well functioned, and most importantly, expensive. They are usually only available and affordable to academic and industry. Individuals, however, are not lucky enough to get the best electronic instruments as they want. This is how we are inspired to make DSLogic.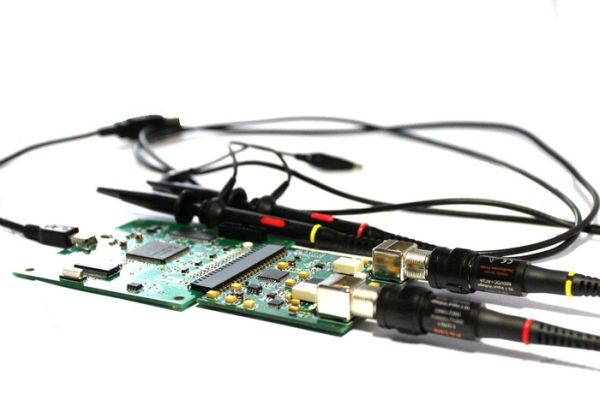 After extensive research on the principles of professional electronic instruments, such as Logic Analyzer, Oscilloscope, DAQ, etc., we realized that many of them have the same core circuit unit – the sampling and storage circuit.
DSLogic consists of DSLogic-Core and extension modules. DSLogic-Core is a re-configurable circuit board based on FPGA technology with maximum 200MHz sampling rate and 64Mbit on-board memory. DSLogic-Core can work alone as a fully functional logic analyzer, along with various extension modules.DSLogic can also work as oscilloscope, data acquisition system, protocol analyzer and even RF analyzer.
Traditional electronic instruments are limited to capture electronic signals. However we believe people need a more creative tool to discover the world, so we also made a special wireless extension module and corresponding wireless probe that is compatible with Arduino board. All you need to do is to connect the probe to existing Arduino sensors, and then DSLogic would automatically capture the sensor data, and visualize them on your computer at real-time without any additional efforts. With this functionality, you will be able to use the Arduino probe to discover the real world, including: physical inputs, such as temperature, humidity, light, sound, magnetic; abstract physical variables, such as distance, speed, accelerometer, force; and even biological signals, such as heartbeat, emg, brainwave, etc
Why DSLogic?
Fully functional and low cost USB-based logic analyzer
There are already many USB-based logic analyzers in the market, such as professional LAP-C (162000+) from Zeroplus, well-designed Logic16 from Saleae, and low-cost Open Workbench Logic Sniffer from Dangerous Prototypes. However, they are either lack of functions or with high cost.
DSLogic is DIFFERENT! You will know DSLogic through the comparison of Sample depth, Sample bandwidth and Price, the most important parameter of logic analyzer.
*The price of LAP-C(162000+) was captured from Amazon: http://goo.gl/6GqvZa
Check out the complete comparison between DSLogic and other logic analyzers as followed.  With the same features that LAP-C(162000+) supports, DSLogic is more than 90% cheaper.
Open Source and Extensible
We've benefited tremendously from the open source community, so in return, we would like to benefit other people as well.DSLogic is a completely open sourced product. All of our design files(software/firmware source code, schematic diagrams, board designs, and bill of materials) will be open source.
For more detail: DSLogic – Multifunction Instruments For Everyone