This is a description of how I designed and built my UV exposure box. After experimenting a bit with dry-laminate photo-resist and liquid UV hardened solder mask I decided to stop trying to improve my toner transfer technique and rather build a proper UV radiation unit for making printed circuit boards.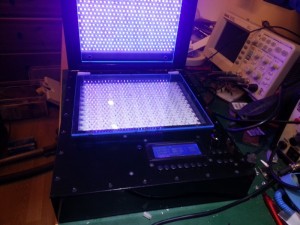 I wanted it to be powerful and compact so I decided to use UV LEDs as the UV source. The preferred wavelength for the LEDs would probably be 365nm, but those LEDs turned out to be hard to find, and very expensive. The 395nm-405nm LEDs on the other hand are very inexpensive. And best of all, can be bough as high-density LED-strip's on 5-meter rolls. So I bought two "5M Ultraviolet 395nm 3528 SMD LED" rolls that have 120 LEDs per meter for a total of 600 LEDs per roll. From what I could tell from a bit of googling the wavelength should work even though it is not ideal. Initial tests proved that the 395nm LEDs worked very well.
This page (and the unit itself) is still very much work in progress. The CAD files and firmware source code can be found in my github repository.
Features
The UV exposure unit is controlled by an ATmega328P microcontroller and have the following features:
Single and double sided exposure. Each side radiated by a 594LEDs / 30W UV LED panel (The unit has a total of 1188 LEDs providing 60W of LED light).
For More Details: DIY Double Sided 60W LED UV Radiation Unit With Vacuum Pump