Micrel's family of low-profile step-down power modules integrates a synchronous buck regulator with an inductor into a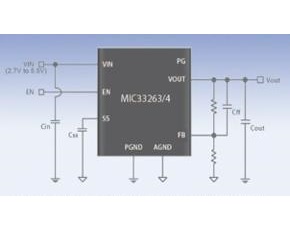 2.5×3×1.1-mm QFN package for the 1-A MIC33163/33164 and a 2.5×3×1.9-mm QFN package for the 2-A MIC33263/33264. The modules offer 100% duty cycle operation and accommodate an input voltage range of 2.7 V to 5.5 V.
Incorporating Micrel's FleaFET technology and HyperLight Load control architecture, the devices can operate up to 4 MHz with up to 88% efficiency at 10 mA and up to 93% peak efficiency. This architecture also provides fast transient response that minimizes output capacitance, thereby reducing total board space to just 4.6×7 mm. With such a small footprint and 100% duty cycle capability, these power modules offer an efficient alternative to linear regulators.
The MIC33163/33164 is specified for a junction temperature range of -40°C to +125°C, while the MIC33263/33264 is specified from -40°C to +85°C. Starting prices for the MIC33163/33164 and the MIC33263/33264 are $1.32 and $1.70, respectively, in lots of 1000 units.
For more detail: DC/DC buck power modules fit tight spaces