Advantech a global leader in IoT, today announced its new FWA-1112VC network appliance which introduces a series of innovative features to its widely adopted range of entry and mid-level white boxes for software-defined WAN (SD-WAN) and universal Customer Premises Equipment (uCPE).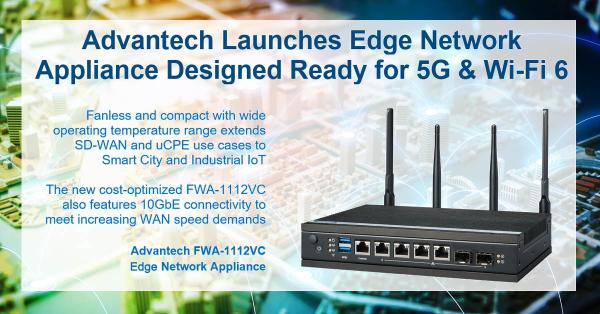 Major upgrades include extended connectivity choice, with dual 10GbE SFP+ and PoE+ support, in addition to a future-proof design ready to adopt coming 5G and Wi-Fi 6 technologies. The FWA-1112VC is a fanless and compact platform that fits working environments where noise levels need to be kept down. It also supports wide operating temperature range to meet edge deployment needs, extending uCPE use cases from enterprise to smart city and industrial IoT.
The new Advantech FWA-1112VC white-box appliance is based on Intel Atom® processor and has been cost optimized to run SD-WAN and network security workflows. It provides flexible WAN connectivity options including 5G, 4G/LTE, Wi-Fi 5, Wi-Fi 6 and 10 GbE SFP+ configurations. Encryption and compression acceleration are supported using Intel® QuickAssist with DPDK providing the technology needed to accelerate packet handling without consuming additional resources. Additional features include PoE+, eMMC and dual 4G/LTE support and improved surge protection. Its fanless design allows for wide operating temperature ranges from -20 ⁰C up to +70 ⁰C to meet harsh environments requirements at the edge.
Fanless and compact with wide operating temperature range extends SD‑WAN and uCPE use cases to Smart City and Industrial IoTThe new cost-optimized FWA-1112VC also features 10GbE SFP+ connectivity to meet increasing WAN speed demandsThe platform has been validated by leading uCPE and service provider partners ADVA and Combridge, member of Deutsche Telekom Group
Read more: ADVANTECH LAUNCHES EDGE NETWORK APPLIANCE DESIGNED READY FOR 5G & WI-FI 6