MYIR introduces a powerful FZ3 Card for deep learning. Built around the Xilinx Zynq UltraScale+ ZU3EG MPSoC, with Computing Power up to 1.2TOPS and MobileNet up to 100FPS, the FZ3 Card is an ideal machine learning hardware for developers to develop, validate or just directly integrate it into their end artificial intelligence (AI) products, thus accelerating their AI applications.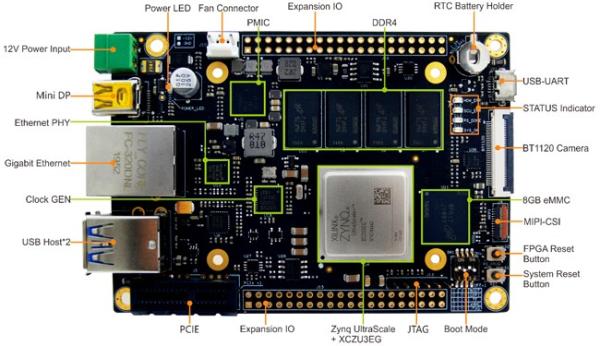 The FZ3 Card (with the installed radiator) has the size of 100mm by 70mm, integrated with 4GB DDR4, 8GB eMMC, 32MB QSPI Flash and 32KB EEPROM, many peripherals are routed out on board including USB 2.0, USB 3.0, Gigabit Ethernet, TF, DisplayPort (DP), PCIe interface, MIPI-CSI, BT1120 camera, USB-UART, JTAG, IO expansion interfaces.
The Card is also provided with rich software resources, it's able to run PetaLinux 2019.1, and fully compatible to use Baidu Brain's AI development tools like EasyDL, AI Studio and EasyEdge, which makes it much easier for developers to quickly leverage Baidu-proven technology or deploy self-defined models, enabling faster deployment. Typical applications of the FZ3 Card are AI camera, AI computing device, robotics, intelligent car, intelligent electronic scale, patrol UAV and other embedded intelligent applications.
MYIR provides FZ3 Kit as a whole development kit, it contains the FZ3 Card and some necessary accessories including one 12V/2A power adaptor, one 16GB TF card, one mini USB cable and one mini DP to HDMI cable. The FZ3 Kit is priced at only $259/unit.
Read more: ZYNQ ULTRASCALE+ MPSOC BASED FZ3 CARD FOR DEEP LEARNING