The intention was to build the most universal soldering controller I can think of. It can drive any low voltage (upto 24V) iron with thermocouple or resistive sensor, in series with the heater, or separate.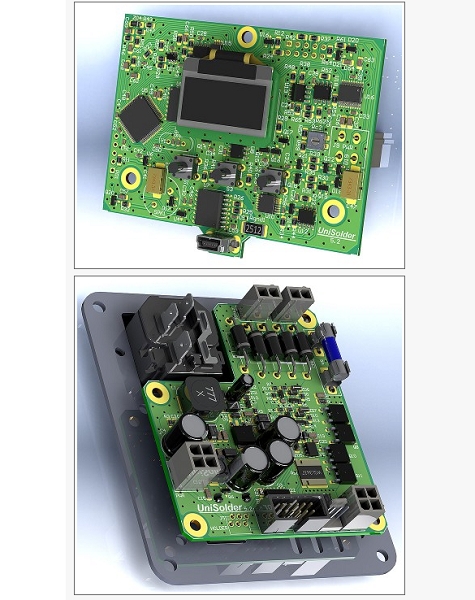 Here is a short list of features:
– power: 9-28V, AC or DC
– 2 separate heater control channels
– 2 independent sensor inputs
– current source on any sensor input 3uA – 12mA, wuth 2 bands (x1, x16) and 256 steps per band
– flexible differential amplifier input selection
– amplifier gain from 0 to 750 in 256 steps
– negative offset selection in 1024 steps
– resistive instrument identification (upto 625 different instruments can be identified by 2 resistors on the connector)
– polynomial floating point voltage/resistance to temperature calculation
– wave shaping to filter out the inductive peaks from series sensor signal
– PID control with power limit
– isolated USB port for firmware updates and live data
– 128×64 OLED display with rich user interface.
Tested so far with:
– HAKKO T12/T15 (series TC)
– HAKKO FX8801 (PTC)
– PACE TD100 (series TC)
– JBC C245 (series or separate TC)
– JBC C210 (series TC)
– JBC Microtweezers (2 separate heaters, each with series TC)
– WELLER WSP80 (PTC) (This iron was sent to me by a reader of the thread for a previous version of the controller. Thanks, Jaroslaw)
– various chinese cheap irons with separate TC
For more detail: Universal soldering controller