Signal relay is almost an "ideal component" thanks to a practically zero distortion and a total isolation of a switched signal from a control one. That is naturally one of the main features of all electromechanical relays, but at signal relays it´s especially valued, as we usually require switching of relatively small signals. Favorite and widely used are for example relays Fujitsu series B3 and B4 (miniature SMT and THT relays) and series AxW (miniature only 5mm high relay) – all with bifurcated gold-plated contacts for a high reliability.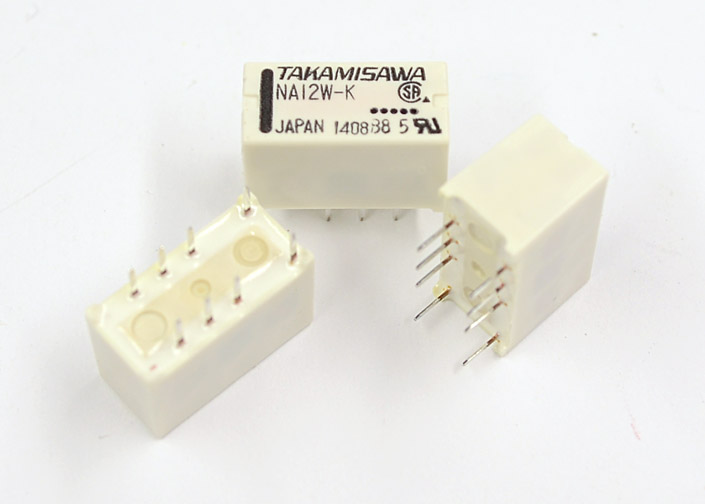 A novelty in our portfolio is the series Fujitsu NA representing something like a "golden middle way ". With dimensions 7,4×14,9×9,7 mm it belongs to narrow miniature relay enabling a high density of components on a PCB. Even though relay NA is somewhat bigger than for example series B4, but it´s able to withstand higher AC current – up to 0.5A/125VAC (vs. 0.3A at series B4) and it also provides an extreme mechanical lifetime up to 100×106 , what´s approximately twice that of B4 series. Sensitive coils, with a consumption of 0.1-0.3W at majority of types enable a dense mounting without problems with overheating.
From the point of view of the lowest possible consumption are naturally the best latching relays (with a permanent magnet) controlled only by pulses. Usually they´re easy to recognize by a letter "L" behind the series marking (for example NAL, JSL). In a Fujitsu signal relays overview and the Fujitsu catalogue can be easily found a comparison among particular types as well as detailed information about them. We try to keep the most favorite types always on stock, what´s also reflected in the substantial increasing of stock.
For More Detail : Does a universal signal relay exist?