Transmissions reach speeds of 32 gigabits per second
Contact: Robert Perkins at (213) 740-9226 or [email protected]
Building on previous research that twisted light to send data at unheard-of speeds, scientists at USC have developed a similar technique with radiowaves, reaching high speeds without some of the hassles that can go with optical systems.
The researchers, led by electrical engineering professor Alan Willner of the USC Viterbi School of Engineering, reached data transmission rates of 32 gigabits per second across 2.5 meters of free space in a basement lab at USC.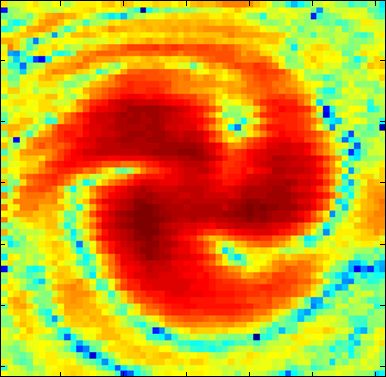 For reference, 32 gigabits per second is fast enough to transmit more than 10 hour-and-a-half-long HD movies in one second and is 30 times faster than LTE wireless.
"Not only is this a way to transmit multiple spatially collocated radio data streams through a single aperture, it is also one of the fastest data transmission via radio waves that has been demonstrated," Willner said.
Faster data transmission rates have been achieved – Willner himself led a team two years ago that twisted light beams to transmit data at a blistering 2.56 terabits per second – but methods to do so rely on light to carry the data.
"The advantage of radio is that it uses wider, more robust beams. Wider beams are better able to cope with obstacles between the transmitter and the receiver, and radio is not as affected by atmospheric turbulence as optics," Willner said.
For more detail: Twisted RF beams achieve 32 GB/s