Tiny Torex DC/DC Converter
This tiny step-down converter chip measuring just 2.5 x 2.0 x 1.0 mm contains an integrated coil and can handle an output current up to 1 A. The XCL210/XCL220 are a new family of step-down micro DC/DC converters which have been specifically designed to minimize unwanted EMI emissions. This makes them particularly suited for use in small-scale RF applications. The design shows good efficiency and stable output with a peak ripple voltage of less than 10 mV.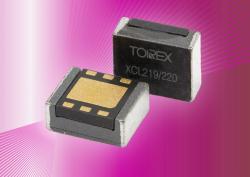 According to Torex the use of an integrated coil has significant advantages; it produces less radiated electrical noise across the entire spectrum and simplifies the board layout process as well as reducing its PCB footprint. The output voltage can be internally set within the range of 0.8 V to 3.6 V in 50 mV steps and maintains an accuracy of ±2.0%.
For more detail: Tiny Torex DC/DC Converter
Project Ratings:
Related posts
Leave a Comment