Overview The Arduino WiFi Shield connects your Arduino to the internet wirelessly. Connect it to your wireless network by following a few simple instructions to start controlling your world through the internet. As always with Arduino, every element of the platform – hardware, software and documentation – is freely available and open-source. This means you can learn exactly how it's made and use its design ...
Read more

›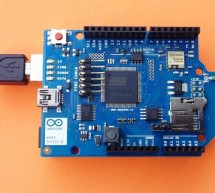 The WiFi Shield was delivered by Amazon. The Arduino UNO Rev 3 was found at RadioShack… First you need to load the last Arduino IDE (Ver 1.0.2) it has the necessary library to use the WiFi shield. Tried the examples "Scan for available networks"  and  "WPA network example" from: http://arduino.cc/en/Guide/ArduinoWiFiShield It works like a charm! thanks Arduino Team… Now some work is comming… Thinking in som ...
Read more

›
Introducing the Sweet Pea WiFi Shield Have you ever wanted to include WiFi functionality into your Arduino system but been scared away by the shear cost and complexity of it. Not to mention that you normally want to have a few other things in there such as maybe an SD card to be able to give those web pages some flare, a real time clock maybe and what about some non volatile SRAM memory to store all that re ...
Read more

›