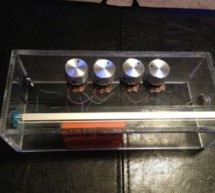 This is a super simple and easily customizable little synthesizer. This is my first time using the Arduino and also with acrylic, both I found very fun to work with though.  This is also my first Instructables so hopefully I have explained this well enough. Step 1: Part and tools For the innards: Arduino Uno power source(I used a 9v with an adapter) 4- 5k linear potentiometers 200mm linear SoftPot(you can g ...
Read more

›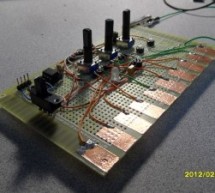 I originally wanted to purchase a Nebulophone but, my El-Cheapo price range didn't like the tag. I realized that I could program my own AtMega 328 by using ArduinoISP Then I found out that if the code was Arduino compatible, why not just use the Arduino as a Nebulophone? Well it was kind of a waste of Arduino but at least I could simplify circuitry. I recently built my DoAnything Shield and could now have a ...
Read more

›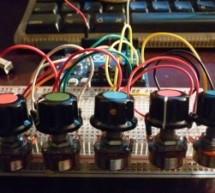 Hello again. Today I'd like to show you the Auduino. That's right, the Auduino is a Lo-fi Granular Synth that works on arduino. It uses some analog pins and a digital pin. I had loads of fun making and playing with it so I'd love to show you how to make it. Sketch created by Peter Knight, Tinker.it http://tinker.it. For more information please visit the website. I hope you are already familiarized with the ...
Read more

›