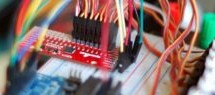 This is something we have been asked a lot about. How do I control a ton of Servo motors with my arduino? Well… using the TLC5940 is one way. And this nice break outboard from sparkfun makes connecting a ton of servos easy. The output pins on the board are all setup and spaced to allow you to just solder some male headers to it and plugin some servo cables. Why Do I need something special to control them? F ...
Read more

›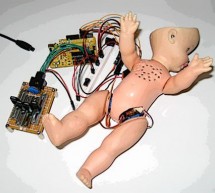 Servos are surprisingly easy to use. Even more so than simple DC motors and steppers when you have a microcontroller. In this instructable we'll use a 'duino to drive five servos which will control a doll's limbs and neck. I bought the servos at HobbyPartz for a couple bucks apiece and found the doll at a swap meet for a dollar. The doll says 1967 Mattel on the back and I later learned she is a See 'n Say t ...
Read more

›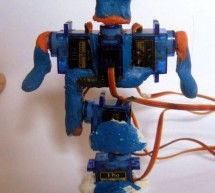 Build a robot using a bag of Sugru and 5 mini-servo motors. Motivation:Build a robot using very few parts and very cheap servo motors. Steps: Parts list  Build Wire Program Play! Outcomes of this project: Robot with 5 joints Arduino Code which is expandable Control and wiring setup Step 1: Parts Parts used: 5 mini hobby servo motors -- 9 Gram Micro-servos about 8 packets of Sugru -- or one big puch Arduino ...
Read more

›