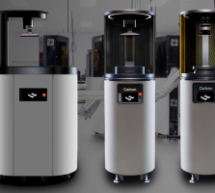 Since 2013, the additive manufacturing startup Carbon had altered the 3D printing industry. Carbon produced its industry-changing M1 3D printer and CLIP 3D printing technology, bringing never-before-seen printing speed and end-use-quality polymer parts to the market. Today Carbon is on a mission to help manufacturers and designers cut their costs, waste less energy and materials while speeding up the ...
Read more

›
Description Stepper motors are ubiquitous in hobby robotics projects: If you make a robotics or automation project today, it is very likely you will use them. Almost all DIY projects from 3D printers and CNC mills, to air hockey and juggling robots use them. However in industrial automation, brushless servomotors have taken over, and it's clear why: They don't lose steps, are much more powerful, efficient, ...
Read more

›
More news: read all about the new AAduino Zero. News: the crowd sourcing campaign for  the AAduino will start soon, sign up at CrowdSupply to be notified! The specs have been beefed with an STM32L0 cpu and the temperature sensor is now an industrial grade TMP102. Update: you can now order the AAduino PCB from DirtyPCBs.com and get a Commadorable 64 bonus PCB for free. I have been using Nathan Chantrell's Ti ...
Read more

›