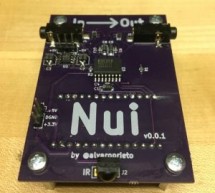 Nui is an IR controlled volume controller for analog audio. It sits between your audio source and speakers and can amplify or reduce the volume using IR commands (and eventually BLE). Why do I need this? It all started because I have my trusty Logitech Z-2300 speakers and subwoofer I purchased back around 2004/5. They still work great, but instead of being on my computer, they are used for my TV. Unfortunat ...
Read more

›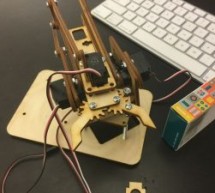 These 6 easy steps will tell you how to make a wooden claw machine controlled with Arduino. Step 1: Print All of Your Pieces Either handcut or laser cut all of your pieces Step 2: Aquire Your Parts You will need 4 SG90 servos, 4 Potentiometers, and a box of half inch nuts and screws. Step 3: Put You Pieces Together Step 4: Code Arduino Step 5: Wire Step 6: Finish! So the original instructions for this proje ...
Read more

›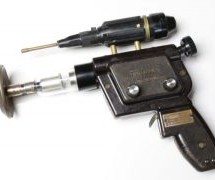 If ever there was a quintessential weapon of science fiction, it would have to be the ray gun. [lonesoulsurfer] built this one-of-a-kind stunner from his impressive collection of junk. It's centered around a vintage Bakelite soldering gun, a vacuum tube, and a portable stove burner, all of which contribute to the fantastic mid-century look. Inside is a slightly modified version of a ray gun sound ...
Read more

›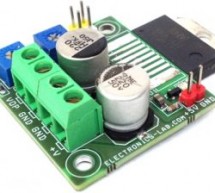 This is a small size power supply based on OPA549 power op-amp that provides output voltage 1.2V to 25V with 0 to 10A adjustable current limit. Two onboard trimmer potentiometers provided to adjust the voltage and current, LED D1 is over temperature indicator. The circuit works with input supply of 30V DC and logic supply 5V DC. IC requires large size heat sink to work with full 10A current range. Screw ter ...
Read more

›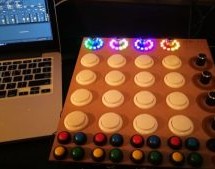 When [Mr. Sobolak] started his DIY Midi Fighter he already had experience with the MIDI protocol, and because it is only natural once you have mastered something to expand on the success and build something more impressive, more useful, and more button-y. He is far from rare in this regard. More buttons mean more than extra mounting holes, for example an Arduino's I/O will fill up quickly as potentiometers ...
Read more

›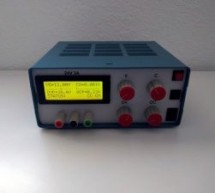 From my point of view one of the best ways to get started in electronics is to build your own laboratory power supply. In this instructable I have tried to collect all the necessary steps so that anyone can construct his or her own. All the parts of the assembly are directly orderable in digikey, ebay, amazon or aliexpress except the meter circuit. I made a custom meter circuit shield for Arduino able to me ...
Read more

›
You'd be hard pressed to find a carpenter who didn't own a hammer, or a painter that didn't have a couple of brushes kicking around. Some tools are simply so fundamental to their respective craft that their ownership is essentially a given. The same could be said of the breadboard: if you're working with electronics on the hobby or even professional level, you've certainly spent a decent amount of time poki ...
Read more

›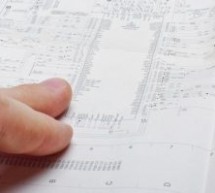 How to Read Your First Autodesk EAGLE Schematic Like a Pro in 3 Easy Steps The schematic forms the building block of every electrical circuit, and even if you aren't designing one yourself, knowing how to read one is invaluable. And with some schematic reading knowledge in hand, you'll be able to design, build and ultimately troubleshoot your way through your design logic before heading on to your PCB layou ...
Read more

›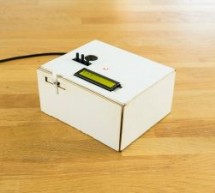 Protect your valuables with a puzzle! Things used in this project Hardware components Arduino MKR IoT Bundle × 1 Software apps and online services Blynk Story Keeping your valuable items away from prying eyes can be hard sometimes, unless you put it in a big safe or something similar... but who has room for that? Instead, create your own puzzlebox using the components from the MKR IoT Bundle and some cardbo ...
Read more

›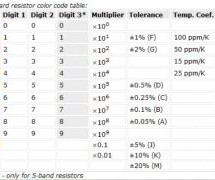 When I was working on the next version of Common Parts Library, I realized that it would be helpful to explain why you might pick one type of passive component over another. We started off by writing "How to Select a Capacitor" last month, and are following it up with a close look at resistors this month. In this blog, we will explain all the different types of resistors, their merits and demerits, and popu ...
Read more

›
DETAILED DESCRIPTION This project is a simple linear bench power supply with adjustable voltage and current. It is meant to be a learning experience, putting ideas of circuit design, feedback, stability into practice building a complete practical power supply. I have intentionally avoided using a 3 terminal regulator or purpose built chip and instead implemented the feedback for voltage and current using a ...
Read more

›
This electronic circuit simulator is highly interactive giving the feeling of playing with real components. It's very helpful for experimentation and visualization. Best of all, thanks to the power of HTML5, no plug-ins are required! The original implementation, in Java, belongs to Paul Falstad who kindly gave his permission for me to build this port. How to use this When the simulator starts up you will se ...
Read more

›