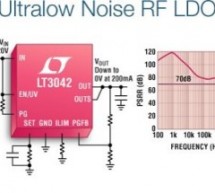 Features Synchronous Rectification: Up to 97% Efficiency 2A Switch Current Rating Fixed Frequency Operation Up to 3MHz Wide Input Range: 0.5V to 5V Very Low Quiescent Current: 38µA (Burst Mode Operation) 2.6V to 5V Adjustable Output Voltage 0.85V (Typ) Start-Up Voltage No External Schottky Diode Required (VOUT < 4.3V) Synchronizable Switching Frequency Burst Mode Enable Control Antiringing Control Reduce ...
Read more

›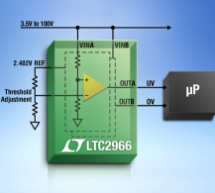 Features Wide Operating Range: 3.5V to 100V Wide Monitoring Range: 1.75V to 98V Quiescent Current: 7μA Adjustable Threshold Range Internal High Value Resistive Dividers ±1.4% (Max) Threshold Accuracy Over Temperature Polarity Selection 100V Rated Outputs Selectable Built-In Hysteresis 20-Lead SW and 16-Lead 3mm × 3mm QFN Packages Description The LTC®2966 is a low current, high voltage dual channel voltage m ...
Read more

›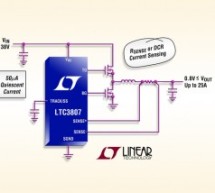 The LTC®3807 is a high performance step-down switching regulator DC/DC controller that drives an all N-channel synchronous power MOSFET stage. A constant frequency current mode architecture allows a phase-lockable frequency of up to 750kHz. The 50μA no-load quiescent current extends operating run time in battery-powered systems. OPTI-LOOP® compensation allows the transient response to be optimized over a wi ...
Read more

›
The AD8237 is a micropower, zero drift, rail-to-rail input and output instrumentation amplifier. The relative match of two resistors sets any gain from 1 to 1000. The AD8237 has excellent gain accuracy performance that can be preserved at any gain with two ratio-matched resistors. The AD8237 employs the indirect current feedback architecture to achieve a true rail-to-rail capability. Unlike conventional in- ...
Read more

›