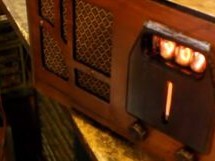 Classix Philly One Oh Seven Nine is your home for Philly soul right at the top of the dial, and now you know why this writer isn't allowed on the Hackaday podcast. That phrase, 'top of the dial' doesn't mean much these days because we all have radios with a digital display and seek buttons. There was a time when radios actually had dials, but [glasslinger] is in a class all by himself. He's adding a digital ...
Read more

›
Primeiro imprimia o desenho da placa numa folha de acetato. Essa folha era colocada por cima de uma placa foto sensível e colocada sob luz UV durante uns minutos. De seguida essa placa era submersa numa solução com soda caustica para retirar a pelicila foto sensivel que ficou "danificada" com a luz UV. A placa era depois submersa numa solução com ácido pre-coloreto de ferro. Após uma lavagem para retirar os ...
Read more

›
Surya Mattu is a creative technologist who loves to make things. He's based in NYC and working at ITP, a two-year graduate program exploring the imaginative use of communications technologies. Today he's sharing with us how feasible it could be to build an RFID-controlled entry for students using Arduino Yún. Read  other guest posts on Arduino Yún. I work at ITP as the student floor-staff programmer. At the ...
Read more

›