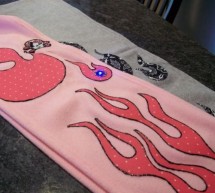 This was my first time working with an Arduino Lilypad. I have been wanting to try something that dealt with soft circuits for awhile now. This project is what I came up with. The concept is based off my friend Ethan Dicks from theFusefactory.org's emergent Sheep Sculpture project. The  Lilypad Interactive Passion Sensing Scarf works like so: Scarf number one being worn by someone walking alone will light u ...
Read more

›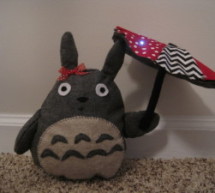 Materials: For Totoro: Felt:  1 black, 3 grey, 1 white, 1 beige Needle Black Thread Poly-fil stuffing Cardstock Scissors Pins Pen or chalk DIY Totoro Plush Tutorial HERE Totoro Pattern HERE For Umbrella: 3 or 4 different types of fabric Felt: 1 grey, 1 black 2 popsicle sticks Needle Black Thread LilyPad Arduino: LilyPad Arduino Board 4 LilyPad LEDs Conductive Thread Needle Battery Mini USB cable (I purchase ...
Read more

›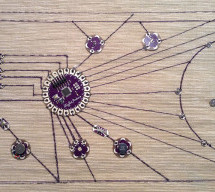 This tutorial shows you how to create a sensor demo mat for the LilyPad Arduino. I wanted a place where I could experiment with the different sensors, but also something that I could use to show examples of what can be done without constantly uploading code. Step 1: Step 1: Supplies To complete this project I used the following: 1 x LilyPad 328 Main Board 1 x ProtoSnap - LilyPad Development Board which incl ...
Read more

›