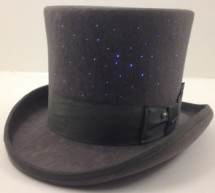 Top hats are cool; just like bow ties.  Not only are they stylish, but they give you a lot of room for incorporating techno goodness.  I recently had cause to buy a tuxedo, which necessitated a kilt, and then a top hat.  You know how it goes.  To the tux I added silver buttons, the kilt was exemplary on its own, so only the top hat needed some flash.  I decided that since my head is generally in the stars, ...
Read more

›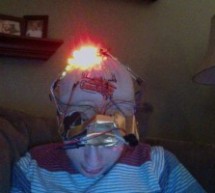 This is a (moderately) simple Arduino project that is a spectacular display from LEDs - that you can wear on your head! It also uses a program that is not intricate at all, so you can modify it for different patterns and cycles. It's also a great first or second project for people new to Arduino. And, of course, it looks great in the dark!(I know the video isn't ideally situated; I'll try to fix that soon) ...
Read more

›
A while ago, as my first microcontroller project, I made a Pong game on a 5x7 LED display, but then nothing became of it. Recently I was given a hard hat as part of a uniform (for an engineering competition) and told to customize it, and remembered pong. In this instructable I will show you how to make a scrolling LED display and how to install it in a hard hat. It also plays pong! LED_Diaplay_Code.zip91 KB ...
Read more

›