A Thermistor is a thermal-resistor. It's just a simple device that changes it's resistance based on temperature. If the LRD/Photoresistor is day of of arduino class. The thermistor should be day 1.01. (Can I do that?). If you need precise temperature readings, this is not the part for you. Check out the DS18B20, TMP102, or MLX90614 Thermistors are not that precise or anything, so you wont be able to tell th ...
Read more

›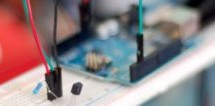 I know… you are probably thinking "Another Thermometer! How many do you need to cover?" – Well… All of them. But really, they all have something different to offer. For instance this guy, the DS18B20, has a unique serial-number sent with it's data, so if you needed to have 50 of these on one bus, you could and still know exactly where the reading came from. And… It's digital serial bus it uses to transmit t ...
Read more

›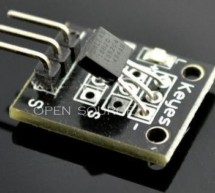 Electronic Brick, Waterproof and other Versions NOTE: There are different-appearing versions but they work the same. This is an electronic thermometer which has high accuracy over a wide range (accurate to ±0.5°C over the range of -10°C to +85°C) (Workable from -55°C to +125°C). You can locate these thermometer chips up to 100M away from your Arduino. Shorter cables can be just 2 wires. NOTE: There must be ...
Read more

›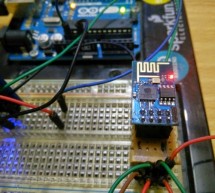 Its been a while i was searching for a cheap wifi module and with the help of smart-prototyping.com, i was able to get a module almost less than USD 5. To connect the module to breadboard for prototyping, i made a small jig to interconnect with the board easily. So i can wire up the device and interface anything to GPIO's. Be careful with the module cause the device it powered with 3.3V and both UART side l ...
Read more

›