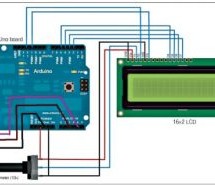 Presented here is an Arduino based audio meter that uses a liquid crystal display (LCD). A VU meter or standard volume indicator (SVI) is a device that displays a representation of signal level in audio equipment. In this project, the intensity of left-channel and right-channel audio signals provided as input to Arduino UNO board is displayed as bars on the 16×2 LCD. In this circuit, analogue input pins of ...
Read more

›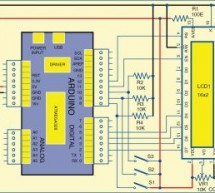 A simple tutor for kids is presented here. An Arduino board (or its equivalent Freeduino), three tactile switches and a 16×2 LCD module are the main components used here. Arduino is selected because it is an open source prototyping electronics platform based on flexible, easy-to-use hardware and software. It is intended for designing creative applications by hobbyists, artists and engineers. Circuit diagram ...
Read more

›
Arduino Project Lists : Arduino is widely used in thousands of interactive projects. It consists of both a microcontroller board where you can order commands and software to store new code on the go. Her Are Arduino Projects  List! Arduino UNO based Projects List Arduino Complete Projects List Arduino Complete Project Ideas List Arduino Nano Projects List Arduino Mega 2560 projects list Arduino Zero Project ...
Read more

›
Arduino UNO based Projects: Arduino Uno is a micro-controller board based on the ATmega328P. It has 14 digital input/output pins (of which 6 can be used as PWM outputs), 6 analogue inputs, a 16 MHz quartz crystal, a USB connection, a power jack, an ICSP header and a reset button. Below is the list of Arduino UNO based Projects: [postlist id=25966] ...
Read more

›