STEP 2 – DESIGNING CONTROL BOARD:
I have made a custom control board compatible used with Arduino Nano to produce the desired effect. The control board basically used to boost the incoming signal from Arduino and lights up the corresponding LED strips.
STEP 2.1 – CIRCUIT DIAGRAM OF CONTROL BOARD: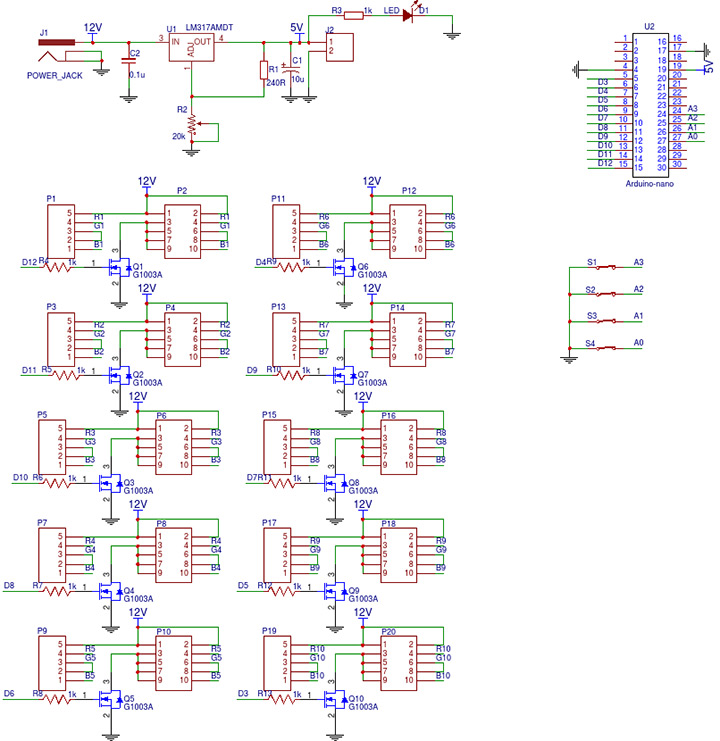 This is the schematic of control board i have designed. Here i have added 10 connection points for 10 LED strips. Separate pins from Arduino Nano was used to control the connection points thereby handles each RGB LED strip separately. Transistor Q1,Q2,Q3….Q10 acts as a switch for these LED strips for controlling 12V strips through 5V signal. And switch S1,S2..S4 was added to alternate the effect produced in the strip. The input of these switches goes into Arduino and it produces the programmed effect for corresponding switch press.
I have used Online circuit and PCB designing platform called as Easyeda to develop my control board. It was pretty easy to use with large number of part libraries. Even you can order PCB board through it once you are done with your design.