Two students are behind an idea that could change how a classroom operates.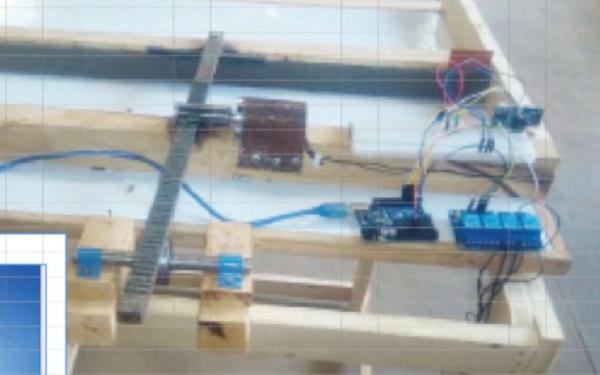 Stephen Kibe and Evans Simiyu, both fifth year Mechanical and Manufacturing Engineering students, are behind an innovation that will make cleaning the board easier.
"According to research done, a lot of time is spent on cleaning the whiteboard in a classroom. This cleaning goes beyond time wastage to interfering with the learner's attention," says Kibe.
In their primary school years, they were tasked in some classes to clean the blackboard and their encounter with chalk dust was not welcome.
When the two shared their experiences after striking a friendship in the college they had enrolled in for an engineering course, an idea to find a solution to this problem that they faced during their early education life was born.
"We felt the need to help those in school from cleaning the boards and saving them from the dangers that come with inhaling chalk dust," Kibe says.
This system uses a rack and pinion mechanism, which converts the rotation of steering wheels into linear motion; that is, from left to right or right to left. It also uses a DC gear motor and arduino-based micro controller mechanism.
"The DC gear motor runs the pinion linearly on the rack with the duster attached to it. The ultrasonic sensor integrated with the arduino based controller plays the role of stopping the pinion and relating the gear clockwise and anti-clockwise in this system," Simiyu explains.
The system is divided into two units; the cleaning unit that works to erase writings and the controlling unit that controls the monitor and the distance.
"When switched on, the brush first moves across and then moves back thus completing one full cycle of movement. The fabricated automatic brush needs five full cycles for cleaning the board completely, which will take approximately six seconds," says Kibe.
They used a prototype board of 36cm wide by 36cm long that only took them six seconds to clean as compared to the manual duster that takes longer to clean fully.
To bring this idea to life, the pair spent Sh5,700 buying the equipment required for the project. Financial constraints forced them to buy a weak motor that was not up-to task.
 "We lacked a better motor that had moderate speed; that is not too large to pose dangers or too low to provide less friction for the board cleaning. That said, we hope to scale up and have schools and colleges adopt this system at a cost of Sh8,000," Simuyu says.  
Source: Students invent automatic six seconds whiteboard cleaner