Silicon Labs Launches Blue Gecko Bluetooth Smart Solutions
NUREMBERG, Germany–(BUSINESS WIRE)–Silicon Labs (NASDAQ: SLAB), a leading provider of wireless connectivity solutions for the Internet of Things (IoT), today unveiled a complete Bluetooth® Smart solutions portfolio designed to help developers minimize the energy consumption, cost and complexity of wireless IoT designs. Silicon Labs' recent acquisition of Bluegiga, a leading supplier of wireless modules and software, accelerates the company's ability to deliver comprehensive Bluetooth Smart solutions. Silicon Labs' new Blue Gecko solutions include ultra-low-power wireless system-on-chip (SoC) devices, embedded modules, and Bluegiga's software development kit (SDK) and Bluetooth Smart software stack. Blue Gecko wireless SoCs and modules help developers simplify design and speed time to market for a wide range of applications for the connected home, health and fitness, wearables, automotive, consumer electronics, audio and industrial automation markets.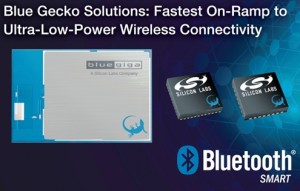 The Blue Gecko portfolio addresses the largest, fastest-growing low-power wireless connectivity opportunity in the IoT market. According to IHS Technology, Bluetooth Smart will represent 42 percent of the total low-power wireless module and chipset market by unit volume in 2018. A significant number of Bluetooth Smart chipsets are currently used in wireless modules to meet the needs of low-volume IoT applications, greatly simplifying RF design. By the end of the decade, the use of cost-effective Bluetooth Smart chipsets and wireless SoCs is expected to outpace modules as many IoT applications reach higher volumes. Silicon Labs' Blue Gecko portfolio provides developers with the flexibility to begin development with modules and transition to SoCs when needed with little to no system redesign.
"Our new Blue Gecko portfolio gives developers a rapid on-ramp to the IoT, enabling them to bring Bluetooth Smart-enabled products to market quickly while maintaining their investments in tools and software as they migrate from modules to chips for later production," said James Stansberry, senior vice president and general manager of IoT products at Silicon Labs. "Our Bluegiga acquisition provided a best-of-breed scripting language and protocol stack that we're leveraging in our Blue Gecko portfolio, making it easy to add Bluetooth Smart connectivity to countless IoT applications."
For more Details: Silicon Labs Launches Blue Gecko Bluetooth Smart Solutions
Project Ratings:
Related posts
Leave a Comment