I've start building multicopters (or drones if you like it better) five months ago! My first one was a scratch build tricopter based on a KK2.1.5 flight controller and three DT750 motors. Everything was made out of plywood and pinewood! It held excellent if you consider that I was a newbie pilot (still I am) and I had something like 3-4 crash reports per flight!
Two moths ago I decided to go a step further and make my second multicopter. This time it will look a little bit more professional than my previous one! To begin with it will be a quad copter, carry a better flight controller, reuse parts of the previous build (in order to lower the cost) and it will be able to stay above the ground longer.
And if you wondering how my first attempt to build a multicopter looked like, I am planning on making an article about that but you can have a sneak peak on the picture below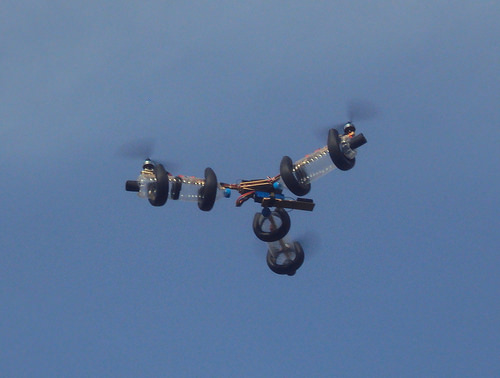 Yeah! It looked ugly but it worked far better that I was expecting! So, going back to the quadcopter now! Somehow I should address the key points that I've set above. First the looks of it!
In order to do that you can buy one of the multiple available frames out there. They come in different sizes, build materials, strength levels, colors etc. The only thing you have to do is to assemble the frame, add the components you want and you are ready to go. But there is a weakness point on them and this is not the price. Yes, you can find really expensive ones but they can go as low as $40 (without shipping).
The weakness point is the replacement components! After a crash (that you will have no matter how much experience you have), the replacement components are not available or the cost of them is high – compared to the full original frame. And you should stick to one shopping source as some frames are designed specifically for them, making the replacement parts only available by them!
Together with that, the design and making process by your own is way more enjoyable than just assembling some stuffs that came on the mail. And yes, I decided to design and make my own frame. Basically this is the point (or at least one of them) of the hobby! To design, make and learn out of this process!
For more detail: Making a Quadcopter Using Arduino