Representatives from the Fraunhofer Institute for Photonic Microsystems IPMS in Dresden will be showing off their Li-Fi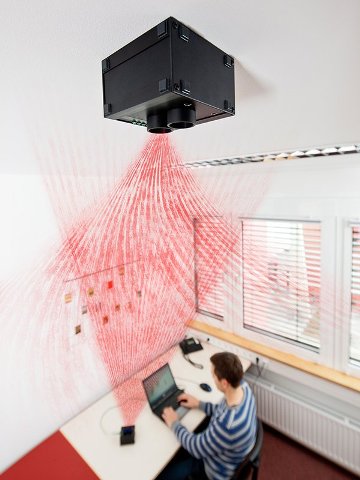 wireless communication system at the upcoming electronica exhibition held in Munich from November 11 to 14. The system uses infra-red light as the transmission medium and can transfer data at a speed of up to 1 Gigabit per second over a distance of up to 10 meters.
The optical technology has been primarily designed for industrial applications where it can offer a wireless alternative to the fieldbus system in use today to handle control information for equipment such as heavy duty grapplers, lifting equipment and other automated process controllers. According to their press release wireless systems offer better reliability and security and in the long run are less expensive than traditional solutions using special cables or collector rings that are prone to wear and tear; they are also easier to install and offer more flexibility.
A compact Customer Evaluation Kit gives potential users the chance to test the system in a variety of applications. The driverless transceiver module combines an optical transceiver and protocol controller with a Giagbit Ethernet interface to give it a simple port to most common industrial systems.
For more detail: Li-Fi Goes Live at electronica