What is Legion?
Legion is a portable energy source with a built-in Organic LED display coupled with a microprocessor. It can charge any USB powered electronic devices. Unlike a traditional portable battery where you're left in the dark about the state of charge of your battery, Legion learns how you use your electronic devices and displays precisely how much more time (day:hours:minutes) you have remaining until you run out of power. Legion uses premium grade Lithium Polymer batteries designed to maximize your energy density while packing it into the smallest area possible. Legion is proudly designed in Silicon Valley, California.
Available Sizes and Colors
5500 mAh (Single 1A Output) White and Black (2.45 x 4.32 x 0.45 inches)
11000 mAh (Dual 1A and 2A Outputs) White and Black (3.5 x 5.625 x 0.45 inches)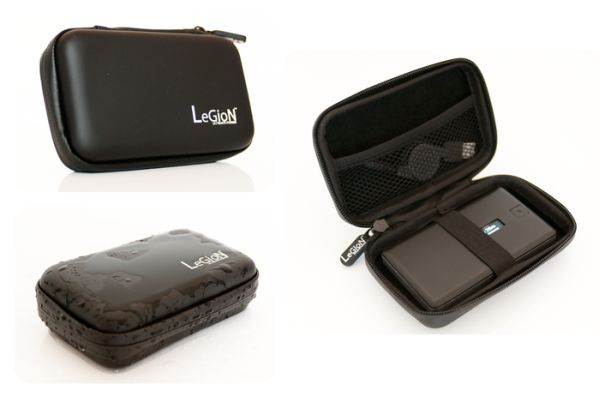 *First prototype shown above
Charge Your Phone Faster
Not all USB power sources are the same. USB wall outlets, desktops, laptops, and solar panels all charge your phone at different rates. With Legion, you'll be able to identify which power plug is capable of delivering the most power by simply toggling to the Watts and Amps menus. The Watts and Amps menus will display your precise charge power and current in numeric form on the Organic LED display. This allows you to identify which USB power source is optimal for charging Legion or any of your electronic devices as quickly as possible.
Stretch Goals
Our First Stretch Goal is $100.000 – All Legion backers get a FREE Multifunctional Retractable 6 in 1 USB A to Micro/Mini 5pin/30pin/lightning 8pin/DC 2.5mm (Nokia round cable)/Samsung P1000 + Dual USB 2A Wall Charger or Dual USB 2A Car Charger
Our Second Stretch Goal is $150.000 – Third Color * Choose between Black, White and Red Legion + All Legion backers get a FREE T-shirt.
Mobility and Travel
Legion comes with a free water resistant carrying case and a retractable USB charging cable. It can be used to hold both your mobile phone and Legion simultaneously.
For more detail: LeGion Halves Phone Charge Times