KORG INC and Noritake Co., Limited Release Innovative Vacuum Tube: the Nutube
KORG INC and Noritake Co., Limited are proud to announce the successful development of the ground breaking technology, Nutube, a new miniaturized and high performance tube. In cooperation with Noritake Itron Corporation, KORG INC. has developed the Nutube to offer incredible reliability and efficiency while still generating the same rich harmonics which vacuum tubes are known for. The Nutube 6P1 featuring this innovation will be on display at the Korg USA Winter NAMM Booth.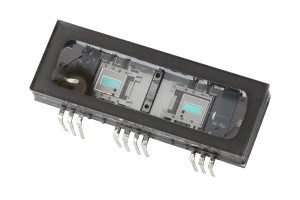 KORG has used vacuum tubes for many years in products such as VOX-branded guitar amps and effect units, KORG-branded dance/DJ products such as the electribe MX/SX and keyboards such as the SV-1. Vacuum tubes have played a major role in shaping the sound of VOX and KORG products, and have been a crucial element in their distinctive character.
As with previous vacuum tubes, this newly-developed Nutube is structured with an anode, grid, and filament, and operates as a complete triode tube, generating the same rich harmonics that are distinctive of conventional vacuum tubes. By applying technology from Noritake Co., Limited's vacuum fluorescent displays, the structure of the vacuum tube has been modified, dramatically reducing its size and allowing it to consume less power. Production is carried out at the cutting-edge Japanese production facility of Noritake Itron, a subsidiary of Noritake Co., Limited., significantly raising the product quality in comparison to previous vacuum tubes by boasting the following features:
For More Details: KORG INC and Noritake Co., Limited Release Innovative Vacuum Tube: the Nutube
This Post / Project can also be found using search terms:
Project Ratings:
Related posts