This is MKR1000/Windows 10 based device to keep your dog out of areas he should not be in by sounding an alarm and taking his photo.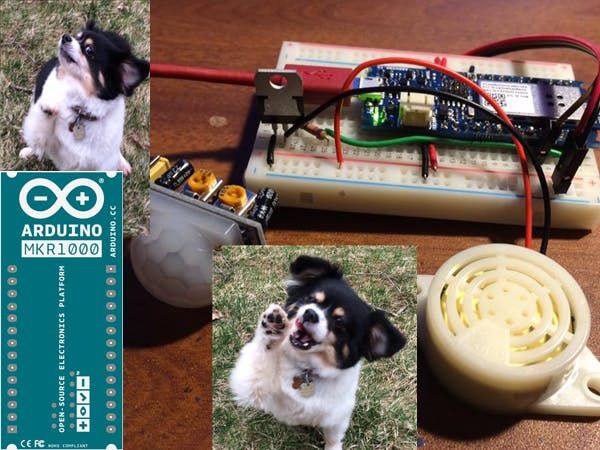 Things used in this project
Hardware components

×
1

Raspberry Pi 2 Model B
You can use Windows 10 IoT on your Raspberry Pi 2, or just run it from any device, such as your Surface or laptop.

×
1

PIR Motion Sensor (generic)

×
1

Buzzer
I wanted a buzzer that would get my dog's attention a little better, so I picked this one up from Amazon (http://www.amazon.com/9-15V-HYD-4218-Active-Electronic-Buzzer/dp/B01DOAADWM). The one from Amazon is probably too loud for most situations.

×
1

Darlington High Power Transistor
I used this so I could drive a much larger buzzer using a 12V power supply. This is not needed if using a smaller buzzer that can be powered from the GPIO pin.

×
1
×
1
×
1

Software apps and online services

Arduino StandardFirmataWifi
I loaded the MKR1000 with the StandardFirmataWifi example from the example library. The only change was so it would authenticate against my Wifi.

Microsoft Azure
I used the Azure IoT Hub to send and receive messages from outside of the device running the DogWatcher software.
Story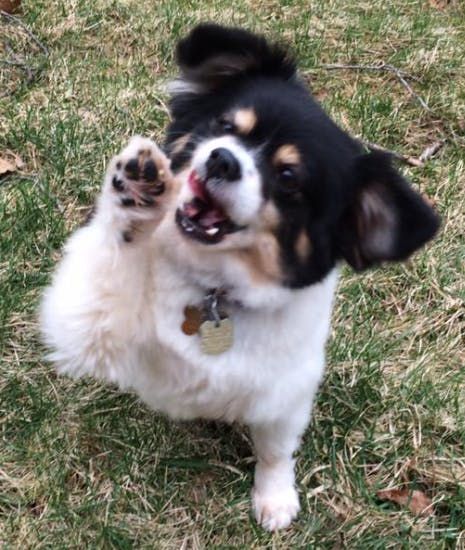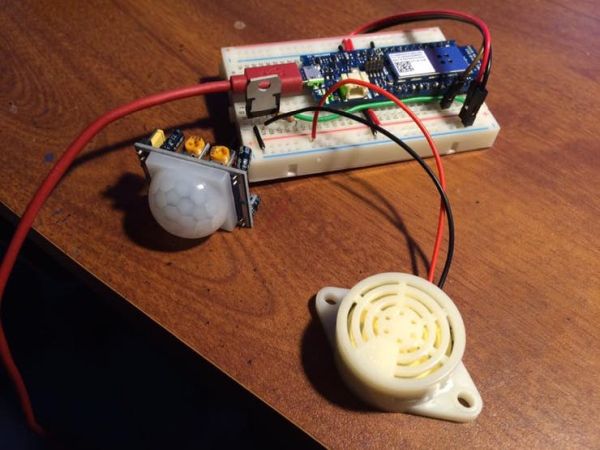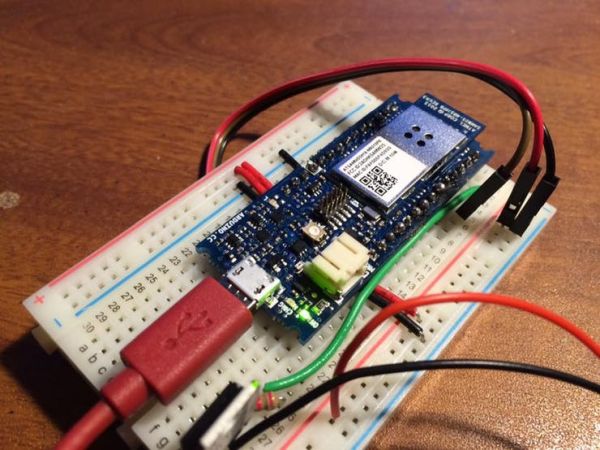 DoggieLox (the name has been changed to protect the guilty) is known for making his way upstairs, sleeping on the beds, munching down on the cat's food and general mischief.
I wanted to get him to cooperate with something like a shock collar.  This simple device uses the Arduino MKR1000 with a buzzer and motion detector connected to it.  I am using Windows 10 to control the Arduino using Windows Remote Arduino.  I have a camera hooked up to my Windows 10 Surface so when the alarm goes off, it takes a picture so I know who the trespasser who.  I also log an alert with my Azure IoT hub so I can get notifications (I am currently using the Azure IoT hub explorer to send and receive messages).  I am also monitoring my Azure IoT Hub for messages to arm or disarm the dog watcher, so I can turn it off remotely.
I designed this so it will work either on my Surface or my Raspberry Pi 2.  The Raspberry Pi is a better option so the camera can be left on the stairs, or wherever needed, to catch the culprit in the act.  NOTE: there are a limited number of webcams that work with Windows 10 IoT on the Raspberry Pi, so check the hardware compatibility list.