Hi, Indiegogo, we are ElecFreaks.
We are proud to bring about the Dynamic Near Field Communication tag (DNFC tag), an invention that who especially tech nerds and DIY lovers have been expected for long. It greatly outstands among traditional read-only NFC tags because it's readable and rewritable and it can communicate with various platforms, to name several most popular: Arduino, Raspberry Pi, Leaf Maple stm32 and some more. It owns a high level of dexterity, thus making it efficient, easy to execute and user-friendly.
The clue is in the name: Near Field Communication. It allows NFC portable devices to establish peer-to-peer radio communications, delivering data from one to another by touching them or putting them very close together. Basically, when you get your phone (if it has NFC as a feature) close to something equipped with NFC – like a tag – it invokes an action on your device.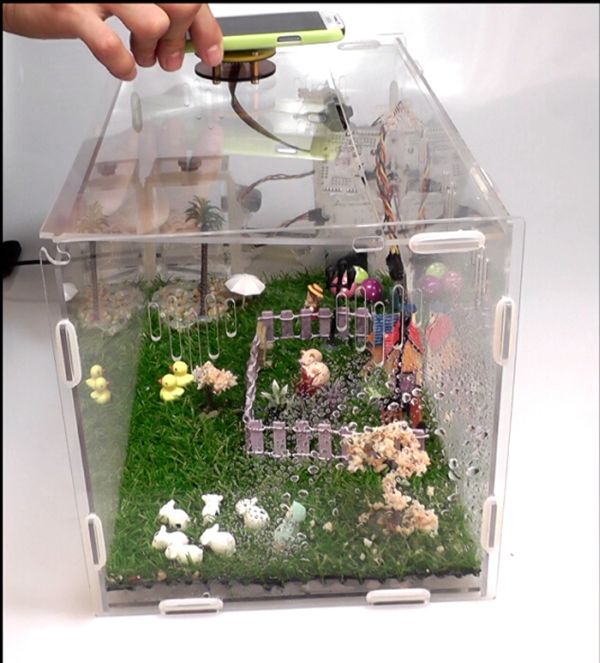 It is very similar to Bluetooth and wifi because the three use radio waves to operate and allow wireless communications. All have advocates and detractors but they don't necessarily act against one another. On the contrary, they can cooperate to make things easier and more efficient.
Developed on the basis of Texas Instruments (TI) dynamic NFC interface transponder RF430CL330H devices, DNFC Tag communicates with MCU via I²C interface to support ISO14443B and up to 848kbps data rate, and is compatible with 13.65MHZ radio frequency (RF). With up to 3kb SRAM memory of NDEF message, DNFC Tag works with MCU to complete message reading and writing via I²C interface, distance up to 30mm.
DNFC Tag can easily exchange data with NFC-enabled phones. Compared with traditional read-only tags, its greatest advantage lies in the real-time communication with MCU via I²C which can bridge connectivity between the tag and devices. With it, users can realize a variety of applications such as intelligent watering system, wifi/Bluetooth password sharing, ID recognition, information exchange and other application scenarios.
In a word, DNFC tag is no difference in the realization of all functions as a typical NFC tag does. Plus, DNFC tag has premium amenities that go way beyond analog. An interaction with MCU lets you write and modify programs in real time for up to 10 thousand times.
DNFC tag offers extremely simple setup, and can be used to bootstrap more capable wireless connections. For example, it can be used to complete the steps of enabling, paring and establishing a Bluetooth/wifi connection.
It is specially designed for DIY lovers and electronics techies.
Do you feel stuck in the middle because traditional NFC tags can read only? Are you not satisfied with the NFC's restricted applications of data change, wifi/Bluetooth setup and mobile transactions? We can think much more than these.
So what can DNFC tag do? It is a pretty extensive list.
Watering System
Amazing! DNFC can take care of your garden!
All we need is a DNFC tag, an NFC device, an Arduino, a motor, sensors and some wires. Get all the articles connected.
We download the app into the phone. Click to enter it, set the values and get the back of the phone very close to the DNFC tag. When we touch, the data will be written into DNFC, followed by actions of the motor via UNO, thus, to realize watering process. Touch again to stop the system.
The system can run in both fully automatic and semi-automatic modes. Gardeners can keep an eye on real-time status of their plants on the screen and even start the system simply by a tap. It is quite intuitive and, cool.
Wifi Password Sharing
Have you been longing for a smart home? Don't you want your TV turned on within one tenth of a second after all-day-long work and get home late at night? Don't you want your friends to say "wow" because right within the moment when you guys kick away the shoes and throw yourselves into the sofa you can start enjoying your favorite programs? That's it!
It's the wifi password sharing system for Android smart TV.
For more detail: DNFC Tag: the Pre-Eminent NFC Tag that Interacts with MCU