To simplify incandescent-like LED dimming – where colour temperature (CCT) falls with intensity – Dialog Semi has introduced a single chip dual output power converter that needs no microcontroller.
iW3640 is a 25W 2-channel mains-powered LED driver, intended for 75-150W-equivalent A19 and PAR bulbs, as well as 20-45W commercial dimmable external lighting ballasts.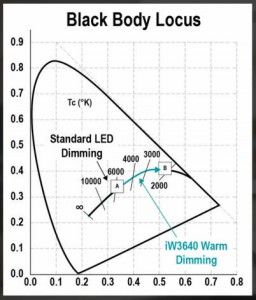 It works by producing a PWM signal that gradually increases its duty-cycle as output current is reduced. A set of white LEDs is fed directly from the converter output (see diagram) while a set of amber LEDs is fed from the same output, but modulated by the PWM signal via a mosfet.
In this way, the light output becomes more amber as the light is dimmed.
Various dim/CCT characteristics are possible by altering the number of LEDs in each string, and the arrangement of strings (see diagram below).
"Built-in digital dimming detects the dimmer type and phase, automatically adjusting LED colour mixing in step with light intensity to provide smooth dimming that closely matches the warmth and ambiance of a traditional dimmable incandescent bulb," said Dialog. "The result is a much more intimate LED lighting experience in residential and commercial settings, where lighting plays an important role in setting the mood."
Dimmers vary considerably in quality, and dimmer compatibility is a big issue with dimmable LED drivers.
"Dialog's digital dimming technology allows the iW3640 to work with virtually all phase-cut wall dimmers, including leading-edge dimmers (R-type or R-L type) and trailing-edge dimmers (R-C type), as well as digital dimmers, with flicker-free dimming down to 1% of initial brightness," claimed the firm. "As the driver detects increased dimming angles, the duty cycle of the secondary LED string is increased. Cycle-by-cycle waveform analysis facilitates fast dimmer setting response."
For more detail: Chip gives dim-to-warm LED lighting without MCU