Anirudh Sharma, an IT Engineer from Rajasthan Technical University has developed a system that offers non-obtrusive navigation for the visually impaired . Calling it Le Chal (Hindi for 'Take me there'), Sharma conceptualized and demonstrated the system at MIT (Massachusetts Institute of Technology) Media Lab Design and Innovation Workshop 2011.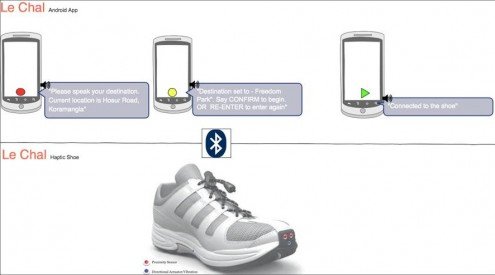 The Le Chal system comprises of a pair of shoes, one of which is fitted with Vibrators, proximity sensors and a Bluetooth pad which is connected to an Android phone that calculates directions and real time location using Google Maps and the phone's built-in GPS and compass module.
How It Works
The user simply needs to speak the final destination before the start of his journey and the Android app formulates the route, calculating turn by turn directions which are sent to the shoe wirelessly via Bluetooth. Depending on the directions or GPS coordinates and compass, different vibrators within the shoe placed at different positions, are activated to offer feedback to the user depending on the turn he/she needs to take. So essentially, the system converts navigation data into haptic feedback.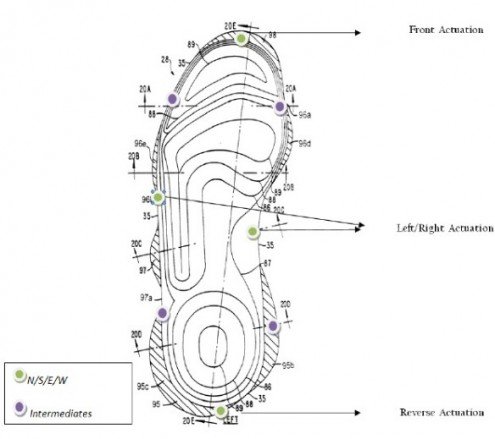 The vibrators also take into account feedback from proximity sensors, which detects physical obstructions upto a range of 10 feet. The intensity of the vibrations differ depending upon the proximity from the destination. For example, in the beginning of the journey the feedback is weaker, while as the user reaches closer to the destination the strength of the feedback increases.
For more detail: Arduino Lilypad powered shooes for the visually impaired