When buying a home, you want to see the house in its entirety. You're investing your hard-earned money into a property, so you need to know that you are buying the right one for you and your family. The usual way of spotting your desired home is by seeing photos that have been uploaded online or by contacting a real estate agent. From there, you can ask to have a tour of the home to see if you are pleased with it in person. Photos do not always do homes justice, so seeing a space in person can be a complete game-changer for some. Images don't show the true scale or size of the rooms or furniture, and these photos can make areas look smaller than they actually are. This can hurt sales and could also put people off from investing in a property. Luckily, there is a fantastic way to show the proper layout of a new home: floor plans.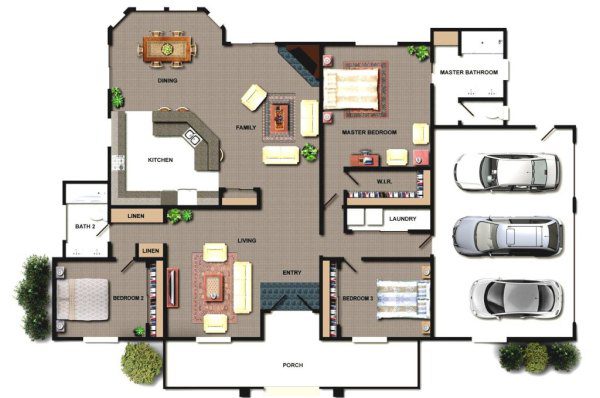 Suitability Awareness
Floor plans are handy diagrams that show a top-down view of the house in its entirety. Many floor plans also come with dimensions and all sorts of measurements to get into the nitty-gritty of the properties' details. By seeing the floor plan, and how all of the rooms are laid out, future homeowners can work out if the home would be a suitable space for them or their families. If they have a larger family or have a baby on the way, then they are going to want a larger home to accommodate a growing family. The floor plan also allows the customers to see where exactly the doors are located and where each room is. This makes it a lot easier for the customers to imagine living in the space and can start to work out where everything would go.
Increased Transparency with Customers
Providing a floor plan to future homeowners can also speed up the entire buying process too, as it lowers the chance of questions that need to be asked about the dimensions and specific details of the home. When it is all laid out in front of them in a floor plan, they can rest assured that the majority of their questions will be answered by the plan. Creating a floor plan boosts interest and gives customers a ton of transparency. Building up trust between designer and customer is crucial when working with the public and is the key to success. Being honest and upfront with the true measurements of rooms, even if they are a little on the smaller side, will show that you are worth investing in. 
Perfect for Remodeling
Floor plans are also a handy tool when it comes to remodeling a home too. Many homeowners choose to completely rejuvenate their homes, but it can seem like an impossible and overwhelming task. With a floor plan, they can imagine where their current furniture would go when changing up some of the rooms' measurements and how they can freshen up the spaces in their home while still holding on to the functionality. It's also a great way to see what already works and what possibly needs to change within the home's overall design.