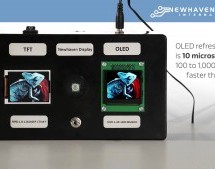 While TFTs have been the mainstay of displays for years, OLEDs are becoming more prevalent as their price drops due to the phenomenal increase in quality from TFT to OLED technology. We received this demo board from Newhaven that effectively illustrates side by side the differences between TFT and OLED technology, using a 1.69 inch 160 x 128 OLED display and a 1.8 inch 160 by 128 TFT display. For mor ...
Read more

›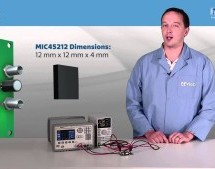 Tech Lab – Micrel MIC45212 Evaluation Board for Medium Voltage DC to DC Power Modules In this Tech Lab, we look at the evaluation board for Micrel's MIC45212, the 14 amp variant from their line of integrated medium voltage DC-to-DC power modules. The MIC45 205, 208, and 212 modules integrate the inductor, PWM controller, power MOSFETs, and passives into the package. This integration reduces the total applic ...
Read more

›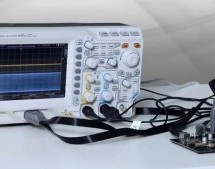 Today, we'll be discussing Rigol's MSO2302A Mixed Signal Oscilloscope from the MSO2000A series. Starting at $1,239, this oscilloscope features 300 MHz bandwidth, with 2 giga-samples per second, a memory depth of 14 megapoints (Mpts), with an option up to 56 megapoints. The large 8 inch high resolution screen typical to Rigol scopes allows for easy review of your data. 2 channel input and has an ethernet con ...
Read more

›