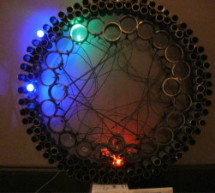 A 24-hour clock with hour, minute, and second indicators. Here's the catch, despite being a digital media (LED's) it is still displaying using an analog method (circles!). I finished making this clock months ago but did not bring it with me to school so I wasn't able to take pictures and all until now. I have been very excited to get this up since I think it is sooooo cool :) It functions as a very pretty p ...
Read more

›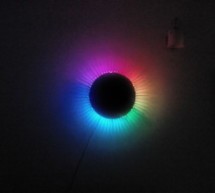 One of my clocks stopped working – and it happened to be a clock my wife likes a lot. Went to the repair shop and the guy said that he didn't have the spare parts and could not repair this. So – I thought – why not build an LED clock – I had tons of LEDs and an RTC module just waiting to be used. The original plan was to make a charlieplexed LED clock – 60 LEDs working off 9 pins and 12 LEDs working off 4 p ...
Read more

›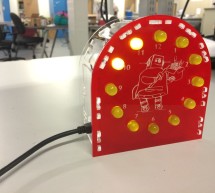 A fun, simple LED clock, that will give you the time to the nearest half hour using single-color LEDs. Parts needed are as follows: Arduino Nano 400 tie-point Breadboard Ribbon Cable DS1307 RTC IC 32.768 kHz Crystal (12) 10mm LEDs (12) 180 Ohm resistors (2) 10k Ohm resistors 0.1" spaced, 12 wire ribbon cable, 7" long Jumper wires 18" x 6" 1/8" acrylic The tools needed for this job are: Laser Cutter Solderin ...
Read more

›