Solderdoodle: Open Source USB Rechargeable Soldering Iron
What is Solderdoodle?
Please click below to visit our Kickstarter project page for Solderdoodle and pre-order a production model!
https://www.kickstarter.com/projects/249225636/solderdoodle-open-source-usb-rechargeable-solderin
Solderdoodle is a portable, cordless, USB rechargeable soldering iron. It is based off my original Open Source project: "Solar Powered Soldering Station"
http://www.instructables.com/id/Solar-Powered-Sol…
Specifications for the Battery and Circuit, including Gerber files, can be found at www.solarcyclepower.com
After learning how to use 3D printers, one of my friends asked if there was such a thing as a USB soldering iron and I said that I had instructions to build one, but the battery was external. I then realized that I could create my own case design on a 3D printer and put the battery, charge controller, and other parts inside as one single unit! It worked! .stp files for the case are provided below.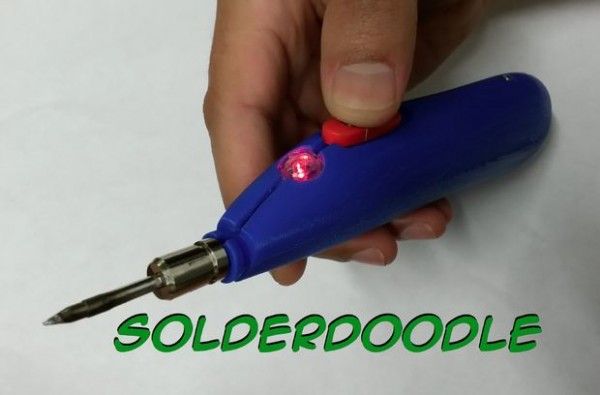 Solderdoodle Specs:
* Time to Fully Charge Solderdoodle @ 5V 1A: 3 hours
* Capacity: 3350mAh/3.6V * Type: 18650 Lithium-Ion
* Diameter: 1.5 inches * Length: 7.4 inches
* Charge Cable Length: 5 feet * Weight: 97g (3.4 oz)
* Input Cable – Male USB 2.0 Type A Connector
* Input – Current: 450 to 1300mA | Voltage: 5 to 6 Volts
* Output – Current: 1400mA | Voltage: 5 Volts
* Body Material: High Temperature Plastic
* Battery Life Under Typical Use: 5 years
* Replaceable battery
* Provides over an hour of soldering
* Solder up to 24 gage thick wire * Heats up to over 500ºF (260ºC) in just 20 seconds
* For use with leaded solder. Non-leaded solder requires higher temperature to melt.
*WARNING: Be careful when handling any Lithium-Ion battery because shorting the battery can cause burns. Always wear safety goggles. Please use recommended battery and circuit components because of the higher 2000mA max battery charge current involved. 3D printed parts may warp under high temperatures.
FCC Compliance: NOT Required because the circuit frequencies are below 1.7MHz
Step 1: Materials, Tools, and Files Required
Here is a list of the materials, tools, and files required.
MATERIALS:
QTY Description
1 Weller BP645 Soldering Iron
1 Lithium-Ion Charge Controller Circuit (Schematic, Gerber Files, etc. can be downloaded at http://www.solarcyclepower.com/index/Open_Source.html The main IC components are the Maxim MAX8903G charge controller and MAX1790 DC-DC step-up converter circuits)
1 NCR18650B 3350mAh Unprotected Panasonic Lithium Ion Battery www.ebay.com (If lower cost is necessary, try the Panasonic NCR18650A battery with a slightly less capacity of 3070mAh. Make sure it's unprotected and check the battery part number carefully. Protected batteries have added length with a built-in circuit, which may affect performance. Reference http://industrial.panasonic.com/www-cgi/jvcr13pz.cgi?E+BA+3+ACI4002+NCR-18650B+7+EU Other brands of batteries are NOT recommended because the charge controller current to the battery can be as high as 2000mA and the Panasonic NCR18650 chemistry can handle it. If you need to use other brands, make sure that they meet the same specifications, chemistry, and can handle up to 2 Amps of charge current. Using batteries that don't meet these specifications can lead to dangerous battery damage.)
Green 5mm Straw Hat LED www.ebay.com
2 Hirose 2-pin connector DF3-2S-2C http://www.digikey.com/product-detail/en/DF3-2S-2C/H2083-ND/141479
2 Hirose 4-pin connector DF3-4S-2C http://www.digikey.com/product-detail/en/DF3-4S-2C/H2085-ND/141485
8 Hirose Socket 24-28 AWG Crimp Pin DF3-2428SCC http://www.digikey.com/product-detail/en/DF3-2428SCC/H1501-ND/269904
1 5′ USB Male-1/8″ Headphone Jack USB 2.0 Type A Cable
1 1/8″ Headphone Jack female connector attached to a small PCB with a .16″ hole for mounting
1 1″ Wide Kapton Tape Roll http://www.mcmaster.com/#7648a715/=qu5807
2 1″ Kapton Tape Disc http://www.mcmaster.com/#77595a35/=qu586k
1 1″ Diameter Piece of Heat Shrink Tubing 2.7″ Long
2 1/16″ Piece of Heat Shrink Tubing 1.0″ Long
1 Roll of solder wire
1 3D Printed case (Files available on previous page. These files are designed for FDM printers where the screw holes are oversized to compensate for closing up of the holes. If printed on SLS or other types of machines, the screw holes may be too big and the screws may just fall out.)
Various Lengths 26 AWG Standard Red and Black Stranded 5 Amp Max Wire Listed Below: http://www.mcmaster.com/#catalog/119/798/=qu7rf6
1 6.10″ Black Wire .06 strip one end .20 strip the other end
1 8.00″ Red Wire .06 strip one end .20 strip the other end
2 3.00″ Black Wire .06 strip one end .20 strip the other end
1 3.00″ Red Wire .06 strip one end .20 strip the other end
1 1.50″ Red Wire .06 strip one end .20 strip the other end
1 4.10″ Black Wire .06 strip one end .20 strip the other end
1 4.10″ Red Wire .06 strip one end .20 strip the other end
TOOLS:
QTY Description
1 Small phillips screw driver
1 Power Core Battery Fixture https://www.shapeways.com/shops/Solarcycle
1 Wire Strippers 24-26 gage range
1 Wire Crimper 20-24 gage range
1 Tape Measure
1 Third Hand Soldering Clamp
1 Soldering Iron
1 Heat Gun
1 Scissors
For more detail: Solderdoodle: Open Source USB Rechargeable Soldering Iron
Project Ratings:
Related posts