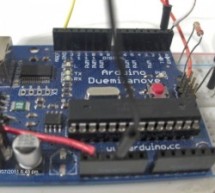 Hello, this is my very first step-by-step instructable, and today, we're going to learn how the sensors in your android smartphone can communicate with your arduino. In modern smartphones, there are a lot of useful sensors for an ingenious arduino project. I have a motorola DEFY, for example and it has (at least) 6 sensors : - light sensor - proximity sensor - aGPS (assisted gps) - compass/magnetometer - ac ...
Read more

›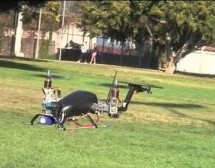 Last year I was fascinated by the "How to build your own Quadrocopter" by Lenz Grimmer and decided that somehow I should try to do a similar thing. This talk is about the way I'm building a bi-copter using lessons learned for last year's talk and also with the errors I've made so far. My journey to getting a flying device running Multiwii is not yet complete. In this talk I will present all the common probl ...
Read more

›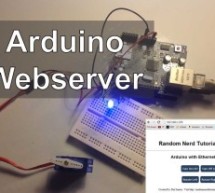 In this project using only an Arduino with an Ethernet shield. I'll be controlling one LED and a servo, but you can apply this method to control a DC motors, buzzers, relays, stepper motors, etc.. Overview: When you upload the the code provided in this tutorials. it creates a webserver in your LAN and you simply use the IP to access that webserver through your browser. After that it shows a webpage similar ...
Read more

›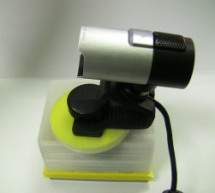 The camera controller box is an easy way to rotate a webcam from a PC or remotely through the internet. Step 1: Materials and 3D files In this project I used a Teensy 2.0 micro-controller since it was available, but you can use any other MCU like an ATtiny85 or an atmega328. The servo model number is S9001. I designed a place for a weight on the base part, in order to prevent vibrations and to keep the came ...
Read more

›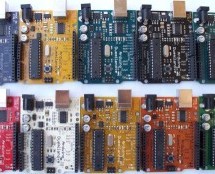 "This presentation shows how to easily go from user stories to automated integration tests that themselves read like user stories. You can accomplish this by using custom domain-specific languages. Too often our automated integration tests rely on coding and intimate technical knowledge of our systems, which not only limits who can write integration tests but also clouds our understanding of what the tests ...
Read more

›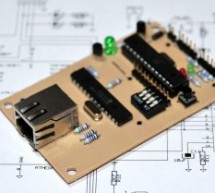 I love the Arduino as a simple and accessible controller platform for many varied projects.  A few months ago, a purchased an Ethernet shield for my Arduino controller to work on some projects with a mate of mine - it was a massive hit - for the first time, I could control my projects remotely using simple software. That got me thinking - The Arduino costs about $30AUD, and the Ethernet board cost about $30 ...
Read more

›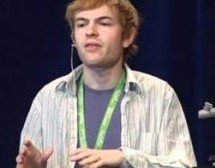 Project Gado is an initiative which aims to create an open-source archival scanning robot which small archives can purchase for $500 and use to autonomously scan their photographic collections. This talk presents the Gado 2, a prototype ...
Read more

›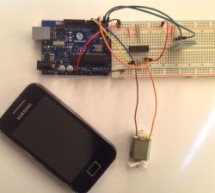 Hi guys, In this project we will control a DC motor with a smartphone via bluetooth. This project is great to learn more about: -DC motor -Interfacing Arduino with your smartphone -Bluetooth module -L293D you can visit my website for more electronic projects, interesting news and tips: http://randomnerdtutorials.wordpress.com/ Step 2: Schematics and common mistakes Two common mistakes: -You need to remove t ...
Read more

›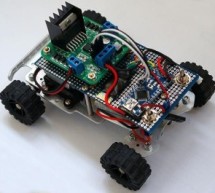 This is a simple project of Android Bluetooth Car with Bluetooth control. Arduino controller is used To control the car used Android-device with a built-in accelerometer. Tilt forward - car goes forward, tilt to the left - car turns to the left, tilt back - car goes back. Speed of movement or rotation depends on how much you tilt the device. Sensitivity and value of the tilt set in the configuration Android ...
Read more

›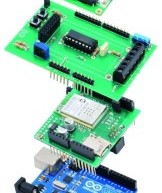 In this post we present the design of a scale that connects to the Internet and automatically sends weight info on a Google Document. The project is composed of Arduino Uno board Wi-Fi shield additional shield that we used to manage data collection and I/O with a clear and comfortable and clear LCD display Velleman scale (or another commercial product) Hardware Taking a look at the diagram, we can di ...
Read more

›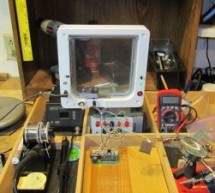 Note: to see everything on one page, please go to: www.tweetingcatdoor.com After receiving many emails requesting Instructions and Kits for building the "Tweeting Cat Door ", I decided to make a version that is stand-alone and doesn't need a computer to be run and that is easy to be put together by anyone with a soldering iron and a little time on hand. All the software is available to download, but feel fr ...
Read more

›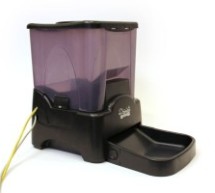 A great project for busy pet owners.  This Twitter-Controlled pet feeder automatically dispenses food in response to activity on your Twitter account.  The project is controlled by an Arduino and uses the Arduino Ethernet shield to receive data from Twitter.  I hacked this automatic Pet Feeder from Amazon to build this project, but you could easily modify your own motorized feeder to work. Parts List: (1x) ...
Read more

›